With the help of Wells Fargo Volunteers last week, we were able to paint a large portion of Kathleen's home in King Arthur's Mobile Home Park. This week, we were excited to be joined by not only one, but two groups to help us complete the rest of her home. Ramona High School's Habitat for Humanity Campus Chapter and the Riverside Magnolia Center Lions Club showed up ready to help.
Saturday's main focus was on the landscaping in her backyard, in addition to painting the remaining walls. Kathleen has a love for plants and trees. When she moved here in 2005, she bought rows of planters from the local orchard. Although very excited, she did not expect the lemon, orange, and peach seeds to sprout so quickly into trees. Kathleen commented, "God blessed me with so much life and in turn these trees have grown so much!"
Unfortunately, because of Kathleen's disability, she has had difficulty maintaining her yard. One of the trees had uprooted the air conditioning unit and was going to cost her a lot to replace it if she didn't take care of the roots soon. It was going to take a lot of moving parts to tackle this part of the project; however our Ramona High School and Lions Club volunteers did not let this intimidate them. They put on gloves and jumped right in, ready to get dirty.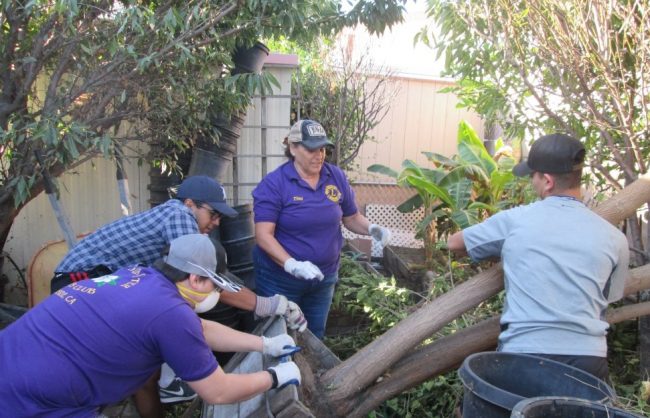 Tom, a Riverside Lions member and a Marine Corps veteran, made a career in construction. He felt comfortable with the task at hand and did not hesitate to offer friendly direction to the students.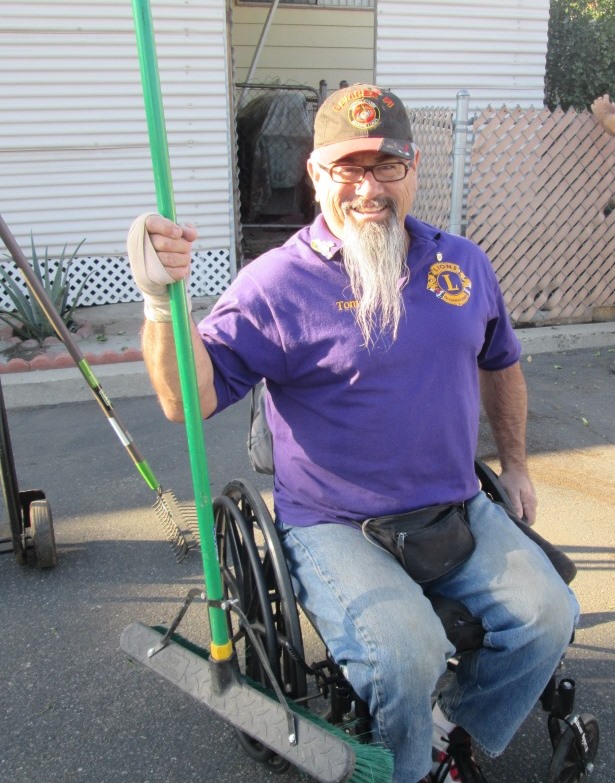 Volunteers used metal clippers to break down the planters, saws to cut the trees down into smaller sections, shovels to remove the dirt, and metal rakes to collect all the debris. When all was said and done, the disposal container was filled to the rim and Kathleen's backyard looked revitalized. It got to see some sunshine that areas of the yard had not seen in years.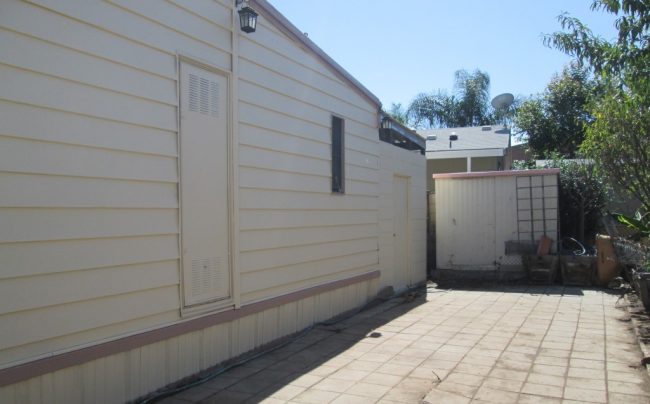 Before and after photos of Kathleen's backyard.
The Riverside Lions wrapped up their volunteer shift after a long morning of hard work. Ramona's Campus Chapter members continued, picking up on the painting where the Wells Fargo volunteers had left off the previous week. The painting portion of the day's project was more relaxed, and the students used this time to unwind. There was recounting of funny moments that occurred that morning, and much bonding between the club members, their advisers, and the teachers that came out with them.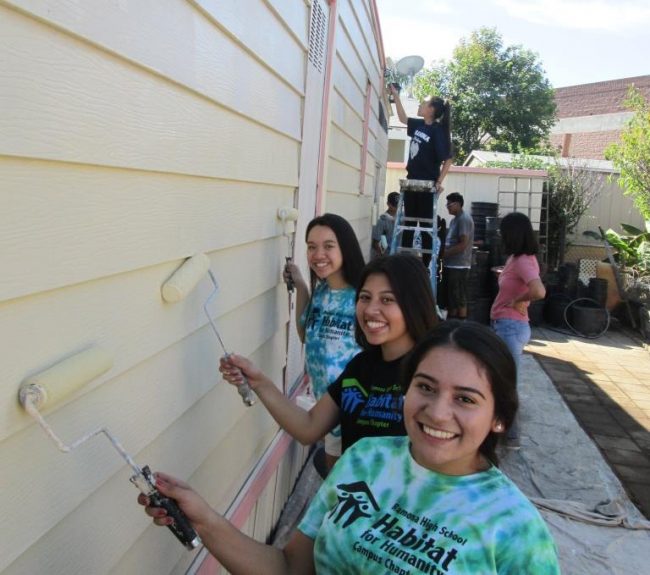 Alex, a senior at Ramona High School, exclaimed, "This is my first time out doing a Habitat for Humanity project. It was a lot of work, but also a lot of fun. I look forward to doing more projects like this one in the upcoming year."
By noon, Kathleen's home had absolutely changed. She came out to express her gratitude, "I am so, so thankful for all of you that came out today. It looks amazing." Thank you to Ramona High School's Habitat for Humanity chapter and Riverside Magnolia Center Lions Club for coming out to support us in completing this preservation project. We couldn't have done it without all your help!