Neighborhood Revitalization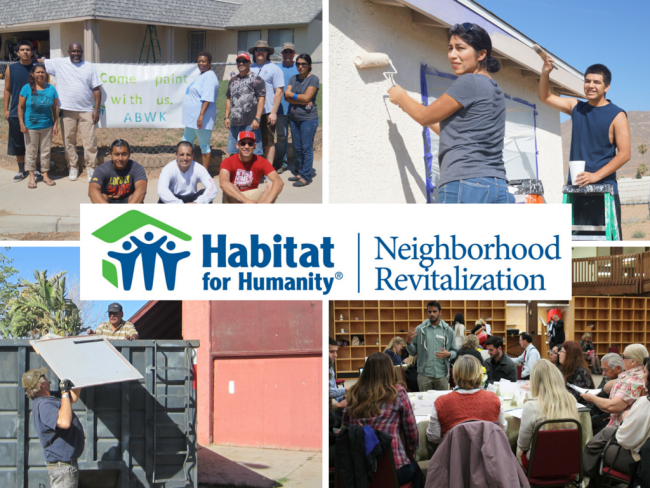 Habitat for Humanity Riverside's Neighborhood Revitalization Vision 2017
Our work will result in an improved quality of life and stronger connections for residents in at least 3 neighborhoods. Habitat Riverside will act as a catalyst of neighbors and partners, promoting and supporting networks and common interest – between neighbors and among neighbors and community partners.
The quality of life attributes we impact are physical conditions, social connectedness within the neighborhood, civic engagement between residents and the larger community, access to amenities and the ability of residents to identify and determine their desired future.
Neighborhoods across the country are revitalized into vibrant, safe and inviting places to live for current and future residents. This will happen through the hard work of engaged citizens, partnerships with civic and business groups, and a renewed community spirit.
The housing need in the United States is significant; and growing. According to The State of the Nation's Housing 2010 (JCHS), roughly one in six Americans is in need of a decent, affordable place to live. Our nationwide economic crisis is creating financial difficulties for entire communities. Habitat for Humanity Riverside  knows that just one decent home in a blighted neighborhood is a good start, but it is not the only help a community needs.
Neighborhood Revitalization (NR) serves more families by responding to community aspirations with an expanded array of products, services and partnerships, empowering residents to revive their neighborhoods and enhance their quality of life.
The NR was designed to work to transform neighborhoods using a holistic approach. Habitat affiliates are joining residents, nonprofits, businesses, local governments and communities of faith to create and implement a shared vision of revitalization.
NR tailors work being done in each neighborhood to meet its specific needs. In partnership with community organizations and agencies, Habitat for Humanity Riverside can provide a wide array of services, such as:
–New, EnergySTAR rated efficient house construction
–Rehabilitation of vacant and foreclosed properties
–House repairs for existing low-income homeowners
–Connecting residents to their community
Habitat for Humanity Riverside is just one part of a community-wide solution. Collaboration with other local groups is an essential ingredient of the NRI. This includes:
-Working with residents and other significant stakeholders in the community to develop a common plan of recover and vision for the future.
-Forging both formal and informal partnerships and alliances at the local level.
-Joining or forming community coalitions.
-Rallying active neighborhood support.
-Advocating public policy for local housing initiatives.