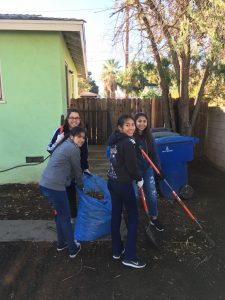 On December 17th, we closed out 2016 with one last A Brush with Kindness project. We returned to Gloria's house, whose yard we had previously cleared, this time with students from the Ramona High School Habitat for Humanity Campus Chapter, to level her yard, apply the weed barrier, and lay the rock in the front yard. We began with introductions and a safety demonstration. Once this was done, the group began to work and before we knew it, the ground was level, most of the yard was covered with weed barrier, and the first truck delivery of rocks had arrived.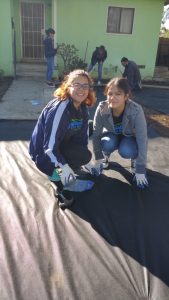 When the rocks arrived, the students quickly transitioned from laying the weed barrier to loading the rock into the wheelbarrows and spreading them throughout the yard. They formed assembly lines, started friendly competitions with one another, and worked as a well-oiled machine to get the job done. This process took most of the afternoon with over 5 yards of rock being laid in the yard. The students were exhausted but that didn't slow them down; they worked hard from start to finish.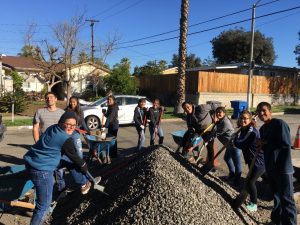 By the end of the afternoon, Gloria's front yard was completely revamped and almost unrecognizable. The students were tired but wise words from Gloria refreshed them. She expressed to them that she was proud of the work that they had done and that these experiences will be with them throughout their lives and manifest good fortune for them. These affirmations immediately brought smiles to most of their faces and they were more than satisfied with the job they had done. Thank you Ramona High School Habitat for Humanity for all of your hard work and continued support throughout the years.