In Moreno Valley, two adjoining lots on Myers St., owned by the Housing Authority of Moreno Valley, had sat vacant for over 20 years. The chain link fence was bent over and transients and others were using it at night. On January 30th, thanks to a partnership between Habitat for Humanity Riverside, the City of Moreno Valley, the U.S. Department of Housing and Urban Development, Bank of America, and GRID Alternatives, Habitat for Humanity Riverside held a dedication ceremony for eight brand new homes.
Moments before the dedication ceremony started, our partner families gathered in front of their new homes alongside friends and family. Sheena, a single mom purchasing one of the four bedroom homes noted "I am holding back tears; I'm so excited that this day has finally come!" Seven families have been pre-approved to purchase homes and will take on a 0% interest mortgage, underwritten by Habitat for Humanity Riverside. These families have been working alongside volunteers to build their homes for over a year.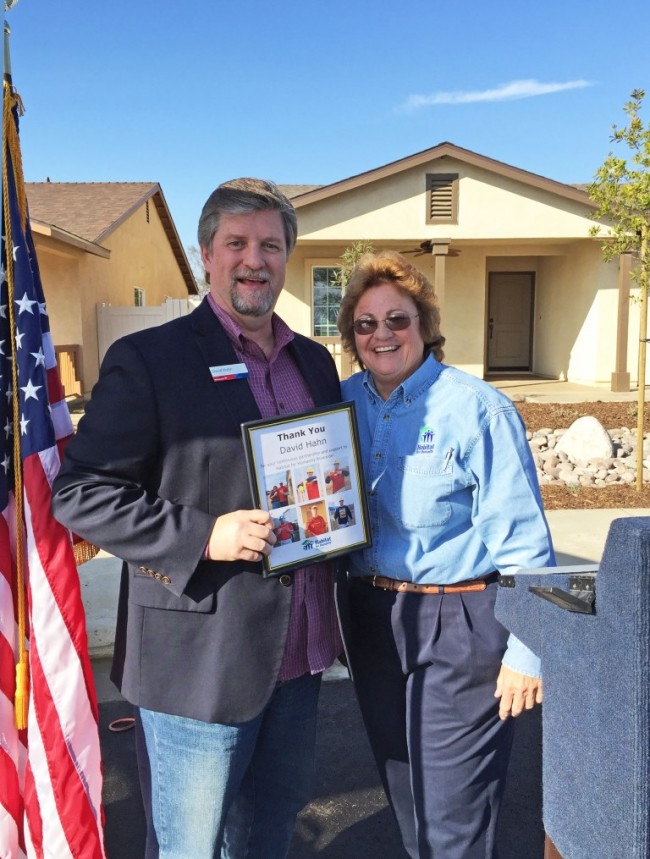 At the start of the dedication, Habitat for Humanity Riverside Executive Director, Kathy Michalak invited up Karissa and Elizabeth, two children who will be living in one of the homes, to recite the Pledge of Allegiance.  Introductions and a prayer were then given by members of Habitat for Humanity Riverside's Board of Directors. California Assembly Member, Jose Medina reminisced about when he helped raise the walls just a year prior. " I see this [volunteering] as the best of our communities coming together to do something great." Moreno Valley Mayor Dr. Yxstian Gutierrez commented,  "I am grateful for organizations like Habitat for Humanity Riverside for creating opportunities for families while building stable and strong neighborhoods".
David Hahn was invited to the stage to speak on behalf of Bank of America. David is a longtime supporter of our organization and has devoted many hours volunteering towards building these, and other Habitat homes. Before leaving the stage, Kathy Michalak presented him with a thank you poster featuring photos of the many times David has volunteered with Habitat for Humanity Riverside projects.
All of the homes are Energy Star rated, and include utility savers such as tankless water heaters and solar panels. Habitat Riverside's Executive Director Kathy Michalak noted, "It's not enough to provide the opportunity for home ownership to these low income families, we need to ensure that it's a quality home with sustainable features that allow the families to thrive long term."
This project involved bringing in a new water line from Heacock St. along Myers to the new development, as well as a brand new city street. As the developer, we were allowed to name the new street (Roberts Way) in honor of our Executive Director Emeritus, Karin Roberts.
The dedication was closed with a touching story from Nick Holst from Discovery Christian Church in Moreno Valley.
Read about the PE's article about the day here. 
Congratulations Portelles Family, Najar Family, Cuevas Family, Cordero Family, De La Cruz/ Rocha Family, Hidey Family, and Kerolos/ Youssef Family on your new homes!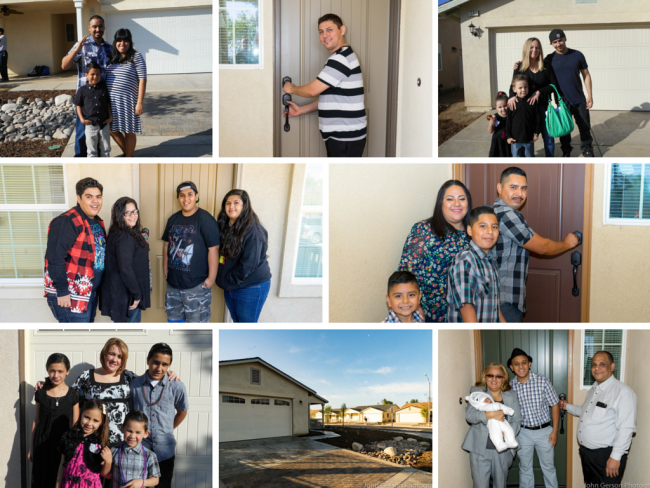 This story was featured in our Summer 2016 Newsletter, for more on this story or to read the complete newsletter, click here!