Being that it is my ninth month as an AmeriCorps National Member, I've been heavily involved in our Neighborhood Revitalization Initiative Focus Area (where we have been working in since September 2013 First web blog link here). I've also been continuing my efforts with Healthy Jurupa Valley in collaboration with the City Jurupa Valley and Reach-Out who has been spearheading the efforts (Second web blog link here).
Garden day at Unity Farms
The Gardens and Markets Action Team under the umbrella of Healthy Jurupa, participated in the first community development project for both Healthy Jurupa Valley and Habitat for Humanity Riverside! In efforts to get the Gardens & Markets group more involved, I organized the first community volunteer day at a local farm. Unity Farms has been part of the community since 2009 and has welcomed volunteers from the community to learn, participate and enjoy the fruits of their labor (literally). The farm itself is an 8-acre USDA certified organic farm owned by a very passionate young man, Gabriel Ruiz and his family. After weeding out a few rows of crops, Gabriel surprised the group with freshly picked Cabbage, Broccoli, Rainbow Chard, and Kale to take home as a token of their volunteer work. The group also received free water bottles donated by Jurupa Community Services District.
Earth Day at Granite Hill Elementary
The Gardens & Markets Action Team partnered with the local elementary school to help with Earth Day Event for the children at Granite Hill Elementary School. Participants of the Gardens & Markets Action Team have been working diligently in creating garden beds for the students to tend to. Earth Day was centered on the grand opening of the garden.  After the ribbon cutting ceremony, the kids dispersed to the various activity booths. I volunteered to work a booth but began assisting a few other booths.
Demeter Neighborhood Meeting
Since my last weblog, AmeriCorps Member Daniel, Jenna and I have held 3 successful neighborhood meetings! The first meeting (which was actually the 2nd neighborhood meeting) was held at Habitat Partner Family's home. This is where a few residents expressed their desires of starting a neighborhood watch. The second half of the meeting was spent outside, in the neighborhood. The groups walked their streets while conducting a 'walkability' exercise. This activity allowed the residents to identify the positive aspects of their neighborhood such as, trees, sidewalks (which sometimes can be taken for granted). The residents were then able to identify areas that can be improved such as debris in the streets and inoperable street lights.
The 2nd Neighborhood Meeting (which was actually the 3rd neighborhood meeting) was held in the front yard of another Habitat Partner Family's home. The meeting itself felt more resident led. Three families took on the responsibility of outreaching to their neighbors of the upcoming neighborhood meeting and hanging up the 'neighborhood meeting' banner. The meeting was more than successful as 2 new residents attended and introduced themselves to one another.
The 3th Demeter/Razor neighborhood meeting (which was actually the 4th neighborhood meeting) was much more educational than the previous casual meet and greet. We invited a guest speaker who has her own successful neighborhood watch in the neighboring City of Riverside to come and educate the residents of her experience. She brought a plethora of documents pertaining to neighborhood watch and encouraged the group to participate in the upcoming National Night Out, where neighborhoods can register to host police, fire, civic groups and residents to meet one another in specific neighborhoods. All in all the group received valuable information as they continue to learn and establish their own neighborhood watch.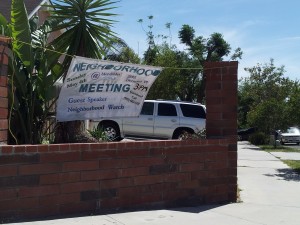 Focus Group in Skymeadow Neighborhood
The AmeriCorps and I helped organize a focus group meeting in another neighborhood aside from our NRI Focus Area. This focus group was to help identify a 3 year vision for Skymeadow Neighborhood. Although only 2 habitat families were present (out of 8 families) we did receive a good amount of information to work with. The residents identified some of the issues of their community such as graffiti, and poor maintenance of the local parks. They identified their desires of having regular meetings "like this" and participating in neighborhood watch. As for the rest of the families, we will be conducting telephone interviews asking them similar questions and then relay the information back to the group.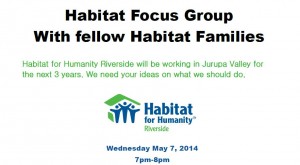 Women's Build
Although not an ABWK project, I did assist in coordinating the annual Habitat for Humanity's National Women Build with Lowe's employees which was held on Saturday May 10th. I signed in volunteers, took group photos and of course got my hands dirty. We added stucco to the exterior walls, ripped out baseboards and tore down kitchen cabinets.
Des Moines Build AThon
The AmeriCorps from the western region participated in theannual Habitat Build A Thon which took place in Des Moines Iowa. From Sunday May 18th to Saturday May 24th AmeriCorps members took on projects to help revitalize neighborhoods within the city. I was assigned to work on the new home construction for a Habitat Partner family named Onek, Lily and their 3 children. Onek and Lily alongside the volunteers in putting up the walls, trusses, roofing, siding, doors and windows. Throughout the week, I learned how to use several tool and was able to perfect (almost perfect) my techniques of cutting a straight line of foam board, accurately measure and level siding and hammer nails in 3 swings. The best part of Build A Thon was getting to know and work alongside Onek, Lily and the volunteers!