Well things have been just a little busy here at Habitat this past week. Several weeks ago a homeowner in the Sky Trails Mobile Home Park in Moreno Valley approached us for help with her entry steps to her home. When we went out to inspect the property we were amazed that no one had been hurt. Two sets of steps were completely rotted out and the homeowner had locked up those entry doors and wasn't using them at all. The third was very weak, and not safe. There was no way we could walk away from helping this senior who suffers from kidney disease and severe neuropathy. Bad enough she was unsteady on her feet, much less trying to navigate steps that were even less steady!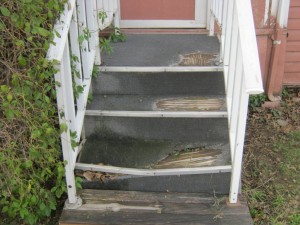 Funding is always an issue. We needed to figure out how to pay for repairs so we went to our friends Thrivent for Lutherans who support Habitat all over the country. They generously gave us a grant to cover the cost of the repairs and even came up with volunteers to help us get the work done. Eric and Joe, two volunteers with some good woodworking skills joined us for a couple of days last week and helped build brand new entry steps. We decided to build them here at Habitat then transport them to the site. Seemed like a great idea until we tried lifting them. Turns out we built them to last. With a little creativity we partially disassembled them and were able to transport them pretty nicely with a moving dolly. Whew! A huge thanks to Joe and to Eric for their brains (laying out treads and risers can be a bit tricky) and skills to get the steps just right!
Check out the photos to see the progress. Turned out to be quite a production and a lot of fun as well. On Friday afternoon, we loaded everything onto the box truck and installed them on site. Fit like a glove!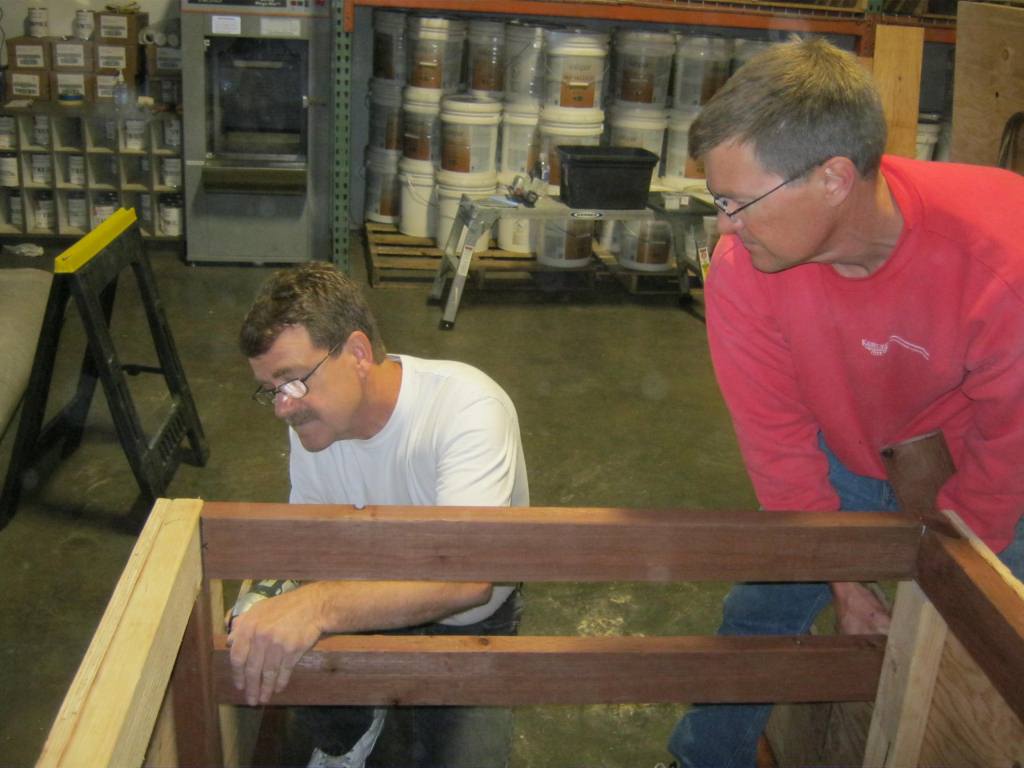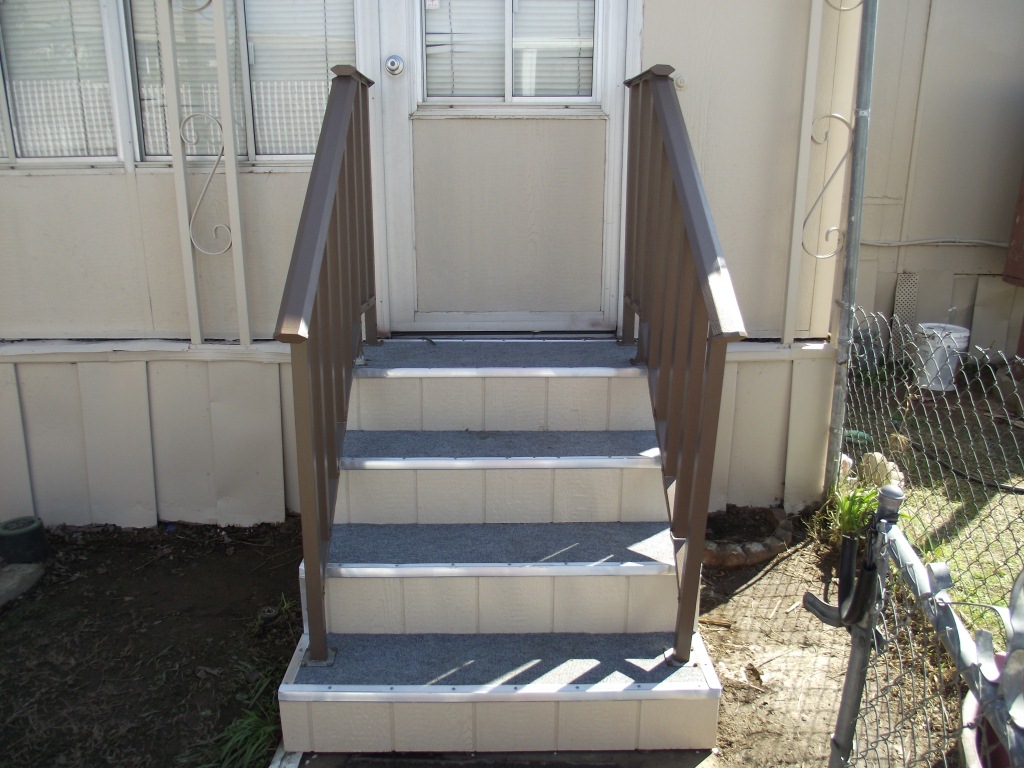 Since we knew that the whole home was in need of some TLC on the exterior, we scheduled a paint day as well when we met with the homeowner. So Saturday we hit the park again and with about 20 volunteers were able to do our version of Extreme Makeover, without the bus! During the week, we replaced most of the gutters and downspouts which were not working or were missing and did the pressure washing to clean it up for paint.
The Holcomb family took total control of the window awnings and did some awesome work. Re-hanging the awnings is always a bit of a challenge but with Bob and Joseph teaming up with Kathy, it was hilarious. Everyone got to laughing so much it's a miracle they got installed correctly and look great! Marlin is recovering from some foot surgery but that didn't stop him from not only volunteering but taking a ton of pictures and keeping everyone supplied with paint. It seemed like all we had to do was look like we might need paint and there was Marlin! And Diane is quite the detail painter. Don was great tackling the stuff no one usually wants to get like the trim on the eves on the hot side of the house. It wasn't long before we broke out the sunscreen.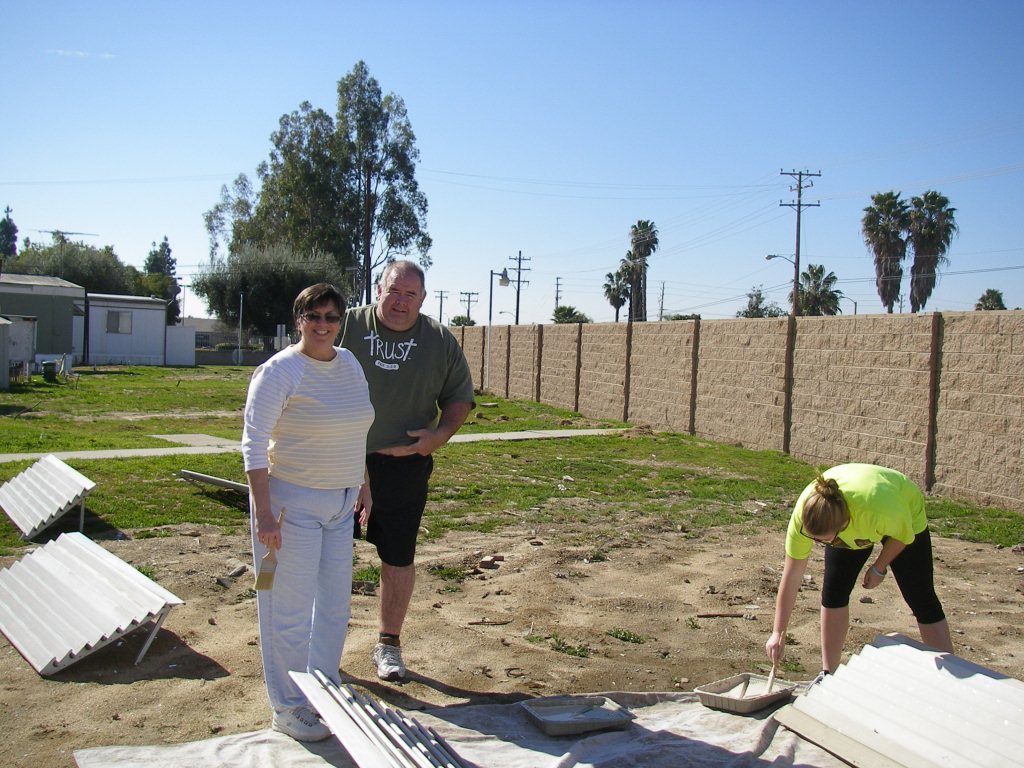 A huge thanks to Deb who took the brunt of the ribbing from several of us, especially Kathy and Marlin. She got on her hands and knees and crawled around in the bushes to do the detail work around the new steps. Too bad we didn't think about moving the steps away earlier, huh Deb? Would have made it a lot easier. She then got together with Joe and tackled the hard to reach spots under the eves on the side of the house. Actually several of the volunteers ended up doing some crawling and cramming into tight spaces since the unit is right up against the new Edison work going on in the park. Made for some interesting photos.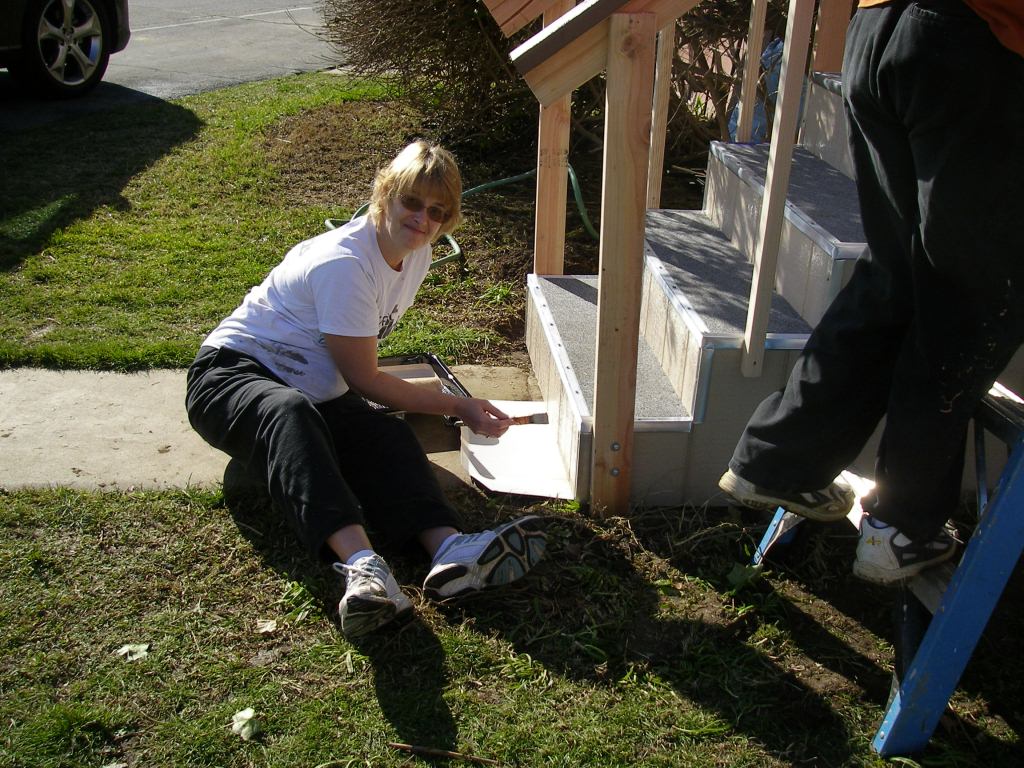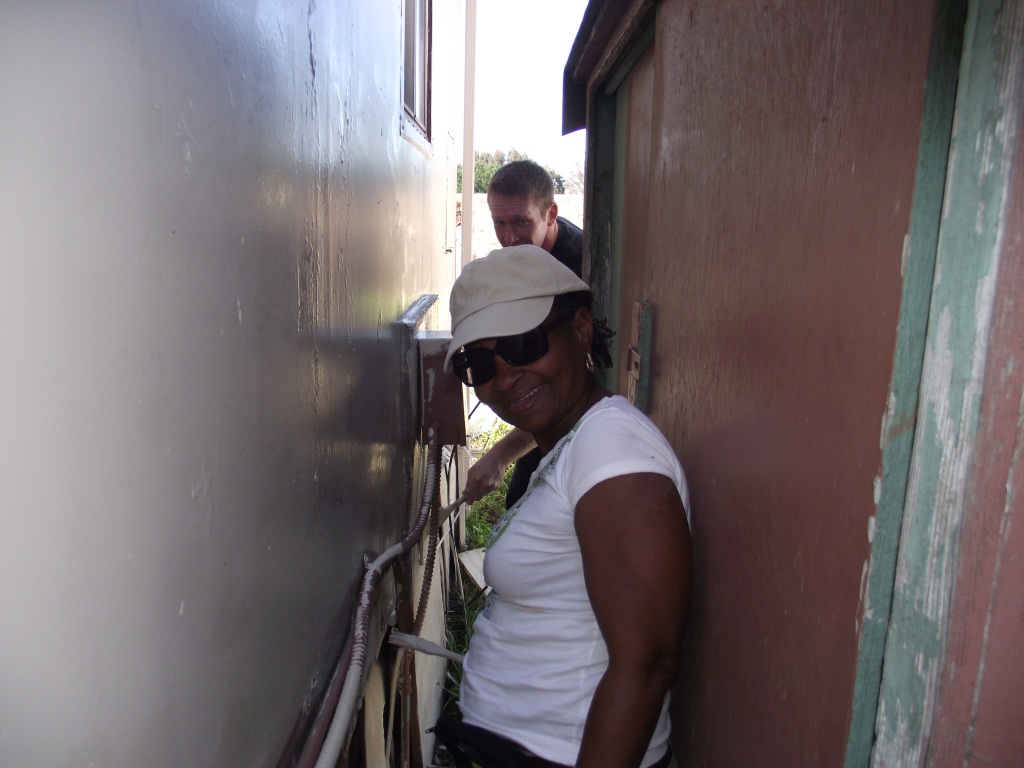 The day was so much fun that we all ended it with a huge group hug and a cheer. That might be a HFHR first! Too bad we didn't get pictures of that but you can use your imagination.