Often Habitat Riverside gets involved in projects that involve much more than a simple volunteer day to fix up the exterior of a home. Such was the case a couple of weeks ago when we got a call from Riverside County Supervisor Tavaglione's office about an elderly man, Larry, who lives in the Old Plantation Mobile Home Park. He was feeling the pressure from the management team at his park to make necessary repairs to his home or face the possibility of citations and fines. He was truly worried about the possibility that he couldn't make the repairs and it could lead to eviction from his home of 35 years.
Here's the back story: A few months ago, we had some pretty crazy winds whip through the area and as a result of those winds, the awning that covered Larry's entry deck was pulled from its anchors, flopped over the top of his home and damaged his roof. While he was able to have the debris from the awning removed, he could not afford to have the awning replaced which is a requirement of the park; not to mention a safety issue with no coverage at his front door or over his deck to shield it from the weather. Since he is both a very low income senior citizen (82 years old) and a Korean War Veteran, the Supervisor's office knew we had to find a way to help him out. Tavaglione's office also knew that Habitat for Humanity Riverside has had lots of experience in Mobile Home repairs so they asked if we could help.
Habitat for Humanity Riverside immediately assessed the damage, which turned out to be pretty extensive, then went about figuring out how to complete the critical repairs AND pay for them! His roof needed to be repaired to eliminate the leaking into one bedroom and one bathroom, additionally the awning needed to be replaced. We also discovered that his entry deck which is about long by deep with entry steps on both ends was weak with almost every support structure rotted out. His steps were of different heights, and very weak. Railings were weak as well. We immediately agreed that the entry deck needed to be rebuilt for safety reasons. Larry has been avoiding that entry door whenever possible because he too was aware that it was unsafe.
Thrivent has been a great partner with Habitat for these critical home repair projects in the past so they were one of the first partners we approached and they immediately agreed to help. In addition, Clemente from Neighborhood Partnership Housing Services stepped in with a Senior Home Repair Grant that covered the repairs to the roof as well as the materials cost for the awning (along with some hefty new augers that will anchor the new awning much deeper into the ground). We reached out to KM Patio Covers who generously agreed to do the installation and donated their labor to help Larry out. The awning is scheduled for installation on Tuesday the 18th.
Projects like this involve tons of volunteers and the Thrivent crews were the first volunteers on site joining us to clear the lot of the debris from the storm as well as other unfinished projects that Larry just couldn't do himself. They also pressure washed the home prepping it for a new paint job and cleaned up the landscaping and pruning that was long overdue. That project was completed on Friday, December 6.
Then, several of the Habitat for Humanity Riverside staff members worked for a couple of days building a brand new entry deck, steps and railings that will last for a long, long time. Sturdy & stable. The decking was built in pieces so it could be transported and installed on site in one day to ensure that there was not a single day where Larry was without that decking. On Friday December 13, several Habitat for Humanity Riverside team members transported the entry deck, steps and railings to the site, tore out the old decking and installed the new one. Sweet!
                           Before:                                                        After:
The final volunteer day was Saturday, December 14 when the Thrivent crew was joined by the UCR Women's Rugby Team to paint Larry's home. And wouldn't you know it, the Santa Ana winds were blowing! Fortunately, not as strong this time. Jim and Sonya from Thrivent welcomed the volunteers with donuts. This was the UCR Women's Rugby Team's first time volunteering with A Brush with Kindness project. Sonya led the Morning Prayer for the group which included some new Habitat for Humanity Riverside families working on their sweat equity requirements. The Rugby team was awesome, working in synch as a team should.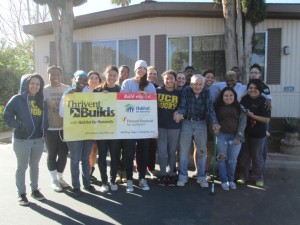 Eric, one of the future Habitat for Humanity Riverside homeowners, helped with attaching the balusters to the patio and new steps. His construction and framing experience came in handy. Eric also helped repair the part of the small fence that was removed to allow easier access when the new deck was brought in. Lee and Cory, who are on staff with Habitat for Humanity Riverside as part of Community Action Partnership's Veteran's employment program took care of much of the ladder work painting the trim with a couple of members of the Rugby Team. Jenine who helped with the volunteer check in process took care of catching everyone in great poses to record the day and even painted most of the home's skirting on one side by herself. Peter, also a veteran, and a Thrivent volunteer helped with most of the detail painting at the front of the home.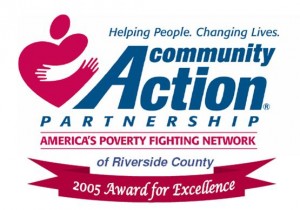 The home and 2 sheds were all completely painted by 1pm and Larry, the very happy homeowner, was thrilled to pose for pictures with the group.
Once the new patio awning is installed later this week, Larry can relax a bit and enjoy his home and have peace of mind thanks to the efforts of so many people. Once again, we see that old saying "many hands make quick work" in action and we are in awe of the willingness of so many of our partners to come on board to help Larry out. A perfect project for the Christmas season! God's love in action in our communities. Amen.
                             Before:                                          After:
*This program or service is funded in whole or in part in cooperation with the following organizations: Community Action Partnership, Neighborhood Partnership Housing Services Inc., Thrivent Financial for Lutherans.