The saying, "it takes a village" rang true this past Saturday. Kaiser Permanente employees partnered with Habitat for Humanity, Riverside for the 5th year, wrapping up four mobile homes with all new paint jobs. Village Riverside Mobile Home Park was where 58 Kaiser volunteers gathered to help four families in touching up their homes, but they were not alone. UCR's Delta Sigma Pi Business Fraternity was among the volunteers to help with the Kaiser Big Paint day as well. All four homeowners who reside in Village Riverside were cited by park management to paint their homes in order to bring them up to park standards. All four families were equally excited to be a part of such a big paint day.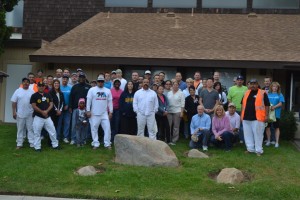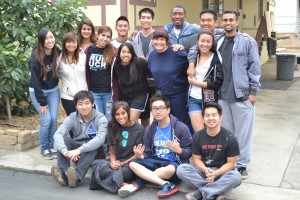 Steven, who is recovering from back problems but still working, cannot take care of his home like he used to in the past. He has lived in his house for 9 years so it needed lots of TLC or "tender loving care". Habitat volunteers went out before the Kaiser Big Paint Day and pressure washed the home, cleaned up his yard and trimmed bushes to allow a smooth paint day for the Kaiser volunteers.
Randy and Sharon, a senior couple, have lived in their home for over 20 years. Randy has been disabled for many years due to a work related injury as a truck driver. Sharon is still working, but only part time. Both are living on their Social Security payments and Sharon's limited part time income. Their home, which used to be yellow over the years, has become a pale memory of that sunny color.
Cecilia and Israel's home needed the most attention. This family of five moved into the home a little more than 3 years ago. Since that time Israel has recently been unemployed and they have been living on his unemployment payments. Although he recently secured a new position, his income is still limited. The home had lots of water damaged trim all around the exterior and windows. The doorsteps leading to the driveway needed to be completely rebuilt because they were a safety issue and another set of steps on the patio side had no hand rails. Kaiser construction volunteers took care of all the trim and the steps the day before the Kaiser Big Paint Day.
Claudia and Renaldo's home looked acceptable from the afar, but the exposed sides needed some attention. All the trim, driveway and patio supports were faded and some of the original paint had worn off. Renaldo replaced some of the wall panels around the enclosed patio, but could not afford to repaint the home. They are living on Claudia's income and Renaldo is currently unemployed.
The Kaiser volunteers arrived bright and early for their Big Paint Day. At 7 a.m. most of them were signing in and enjoying coffee and donuts preparing to help the Village Riverside families. We all met in the park clubhouse and started the day off with a safety orientation. We then went over the painting plan for the day, splitting up the teams for the different houses. Randy and Ron decided on leads for each home to make sure the homes were completed on time just before lunch. There were about 10-12 painters from the Kaiser maintenance teams.  These guys were just as ready to show how well they could paint as they did the last 4 years. A morning prayer was said and the large group moved on to their respective homes. The majority of the Kaiser volunteers were painting 3 homes – Cecelia's, Randy's and Steve's.  The Kaiser painters and volunteers showed their experience and professionalism from start to finish of each home. All of them moved like they were on a mission. Using extension poles, ladders and their special rollers so they could reach every nook and cranny. They were all very devoted to making their houses look great!
At 8 a.m. the Delta Sigma Pi volunteers arrived, signed in, and were given their safety orientation as well. A morning devotion was also done for their project too. The group was excited to get started. They were assigned Claudia and Renaldo's home along with several Kaiser volunteers.  Since most of the students had not painted before, Johnny one of the Kaiser painters gave a quick painting 101 class. The students were quick learners and without hesitation were off to paint their assigned areas. Just like all the Kaiser volunteers the UCR students moved around the home like busy bees. The three Kaiser painters took care of all the high and detailed areas of the home. The students stayed on the ground painting the lower areas or using extension poles to reach the upper areas of the walls when they could. Bryan and Ben helped with the high trim along the patio and driveway covers.
All of the homeowners were in awe of the work that was being completed by the volunteers and the fact that they were here to help. Steve kept on asking, "is there anything I can do for them." Claudia and Renaldo, in Spanish, said they felt blessed on this day. Randy and Sharon felt the same way and wanted to thank all the volunteers personally. Cecelia was overjoyed with the construction and painting completed for her house.  All of the homeowners loved the new look of their homes.
All four homes were completed by 11:30 a.m. just as lunch was arriving. Everyone enjoyed their food and the quick break they had. After lunch, the volunteers were off again finish their homes and help load up the equipment.
Kaiser Permanente Volunteers you were awesome for the 5th time! Delta Sigma Pi, thank you for being a part of Kaisers Big Paint Day and working just as hard! Everyone rocked on this day!  Thank you and Habitat is looking forward to working with all of you again.