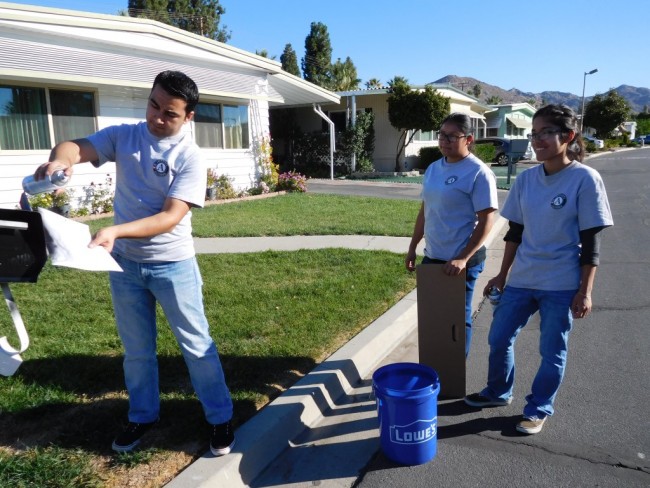 Lowe's, Valspar and Habitat for Humanity Riverside partnered with low income homeowners in King Arthur Mobile Home Estates last Saturday, November 21, for a one day blitz to refresh homes and spruce up the curb appeal before the holidays.  Over 100 volunteers from local Lowe's stores, the Habitat Campus Chapters at Ramona High School and UCR as well as UECC AmeriCorps volunteers from UCR came together as part of the Lowe's Women Build Year End Blitz.
The Riverside project was one of 10 such projects across the country on Saturday. Habitat Riverside has been an active participant in the annual Lowe's Women Build program for more than 5 years. The program's mission is to nurture women volunteers to build and advocate for affordable homes in the United States. Habitat Riverside was awarded a $25,000 grant in support of the Women Build projects.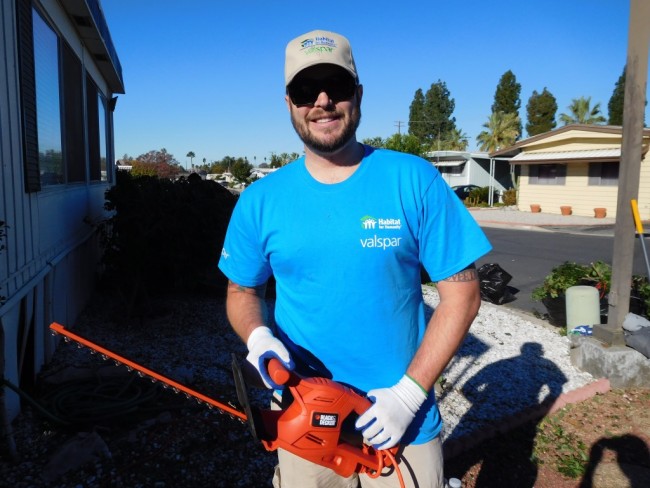 All the volunteers gathered in the community room at the entrance to the park around 7:30 a.m. where the park management team hosted coffee and donuts for the volunteers. Brandy, a volunteer from Lowe's noted "it is so nice to see people who stop their lives to help others in need." By 8:00, after posing for several group photos, the volunteers broke into teams to tackle different projects around the park.
Teams of two or three spread out around the park to spray paint faded mailboxes with a new coat of paint while other larger groups tackled trimming up overgrown shrubs and cleaning up weeds and debris in yards. A couple of teams worked on spreading mulch and gravel in areas that needed it. The large groups made quick work of projects that would typically take much longer. There was a buzz of energy around the park, which is home to more than 200 families.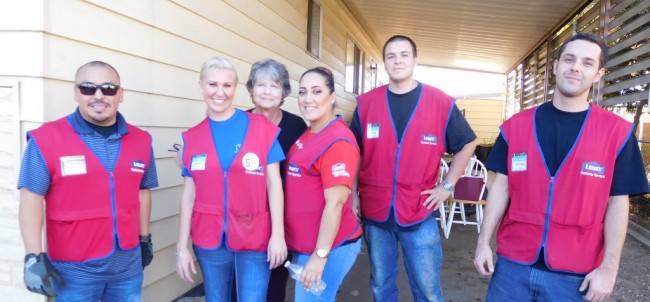 Most of the low-income homeowners that the volunteers helped out were seniors who are either physically unable or cannot afford to make the repairs or improvements. Homeowners were excited about receiving the help, continually thanking the volunteers. Many of the neighbors who were not actually getting work done came out to thank volunteers as well. One homeowner, Wendy, brought out cookies that she had baked for the volunteers working on her home. She mentioned how much she loved shopping at Lowe's stores and how wonderful it was to see "people come out and give their time to someone like me."
"We are grateful to Lowe's, not just for the funding, but for encouraging their employees to come out to help us help these families," said Kathy Michalak, Habitat Riverside's Executive Director. "Habitat Riverside is blessed to have so much community support from businesses, schools and individuals. Partners like Lowe's and Valspar are critical to our mission."
A national partner since 2003, Lowe's has committed more than $63 million to Habitat for Humanity and helped more than 4,000 families improve their living conditions. Each year, Lowe's provides grants and volunteer assistance to affiliates, supports Habitat for Humanity's National Women Build Week and conducts how-to clinics at stores to teach volunteers construction skills.
The Press-Enterprise fielded a photographer and a reporter to the site on Saturday morning and you can read their report here: Read the Press Enterprise Article