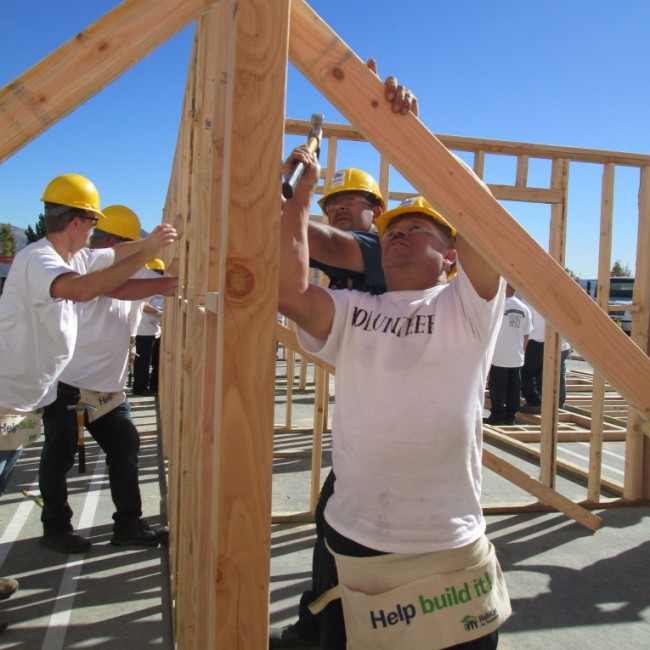 During the week of November 16th, the parking lot at the Simpson Strong-Tie Southwest Office, Factory, and Training Center had a very different look. Cars were cleared from the lot and in their place were planks of wood, hammers, easy ups, and a group of enthusiastic volunteers.
Simpson Strong-Tie contacted us about doing a wall raising for the Jurupa Valley veteran build in November and, given that we are still in the planning stage of this project, got a little creative with executing their volunteering; they framed and raised the walls of two homes in the parking lot of their facility.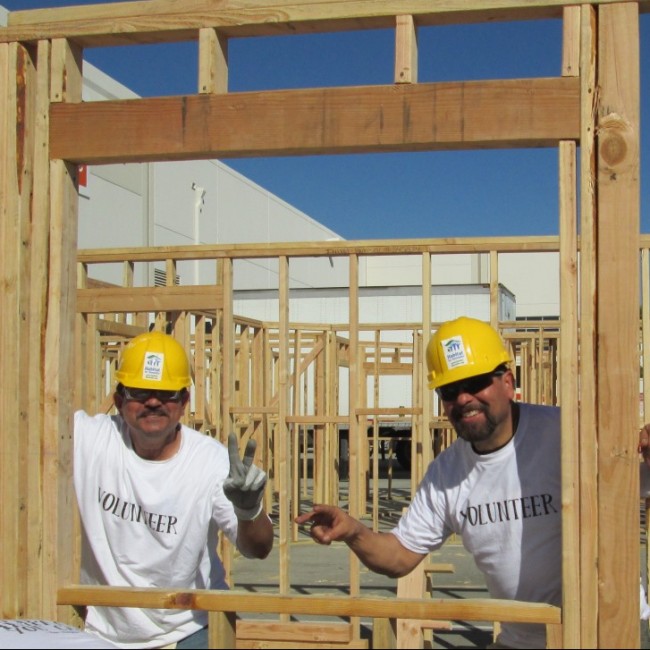 This was an easy job for our construction team because Simpson Strong-Tie completely executed and manged the project. Volunteers were led by Angel, a Simpson Strong-Tie employee and former framer.
Employees were able to attend one of two volunteer shifts a day, sharing a BBQ lunch in between. Each lunch was started with encouraging words from Angel. On the last day, he gazed upon the work they accomplished and said "Thank you, I had to run around a little but you made it happen".
The two homes were set and framed in 4 days. "It is great to see a focused passion, building a good reality for those in need." Jeff Ellis, volunteer.
These homes will not stay long in this parking lot! After they had been framed and raised, volunteers and Habitat staff arrived on Friday to take down the walls and load them onto a truck. The walls were then transported to the Habitat for Humanity ReStore, Riverside where they will be stored until the site is ready.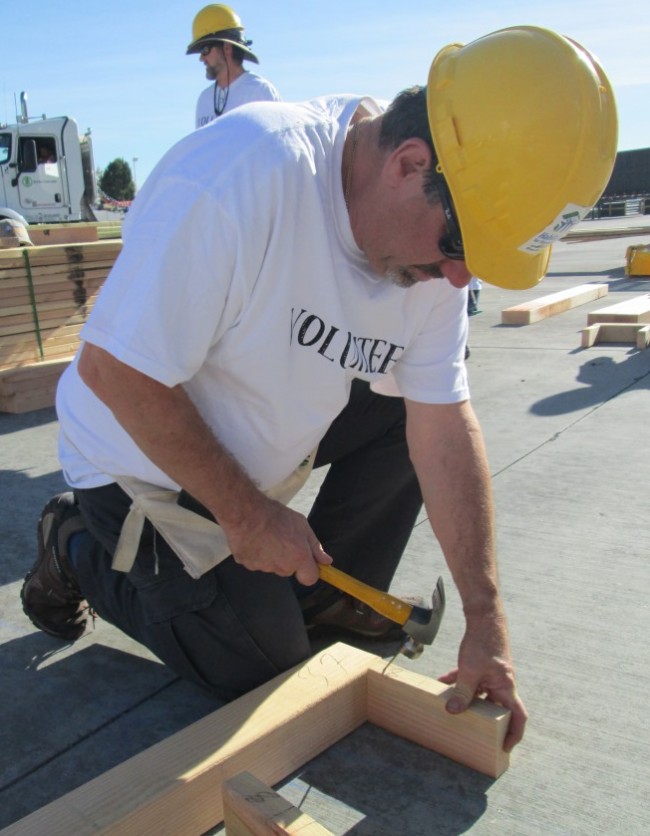 Simpson Strong-Tie has been a dedicated donor and supporter of Habitat for Humanity, Riverside for years. They have donated materials to the Riverside Restore and to many of our Habitat homes, including the 8 home development in Moreno Valley, 3 home development in Riverside, and our veteran build in Jurupa Valley.
In partnership with California Department of Veteran Affairs, Habitat for Humanity, Riverside will build 26 new, EnergySTAR rated efficient single-family residences in Jurupa Valley dedicated to veterans and families of the fallen. On their journey to home ownership, veterans and their families will attend no-cost, educational workshops that range from financial literacy to health and wellness. The groundbreaking will take place early 2016.