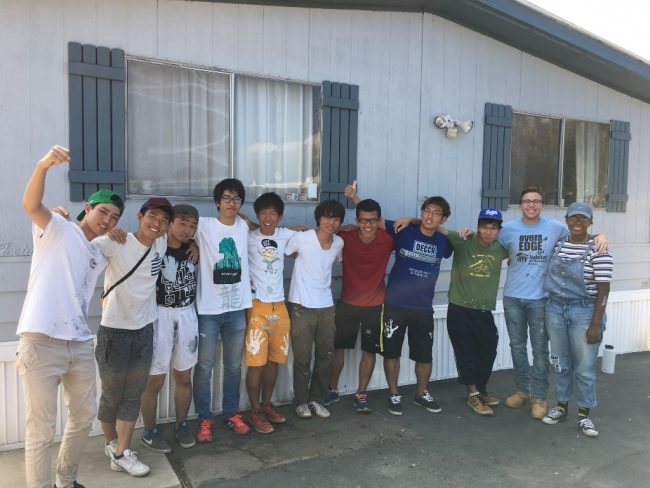 My first A Brush with Kindness project.
As I waited for volunteers to arrive on my first project as an AmeriCorps member, I had no idea what to expect.  When they arrived and the car doors opened, I was surprised to see a dozen volunteers from UCR's Japanese Student Exchange Program. I felt a little nervous, because who was I kidding? I didn't speak Japanese and they barely spoke English.  But my mind was quickly put at ease because as we worked together for those few short hours, I learned more than enough about their culture and language to communicate. Along the way I realized how much fun I was having.  Teaching the volunteers different words in English, mispronouncing new words in Japanese and spilling paint in my hair; we were smiling and laughing the entire day.  When it was time to leave, one of them grabbed a paint brush and painted the word "friend" in Japanese kanji character on my jeans. I waved goodbye to all of them as they drove off, and I left that day feeling fulfilled. I had helped a member of my community repair their home, made many new friends, and found my new favorite pair of jeans.  My first project was a perfect example of why my experiences as a Construction Crew Team Leader with Habitat for Humanity Riverside have been so wonderful.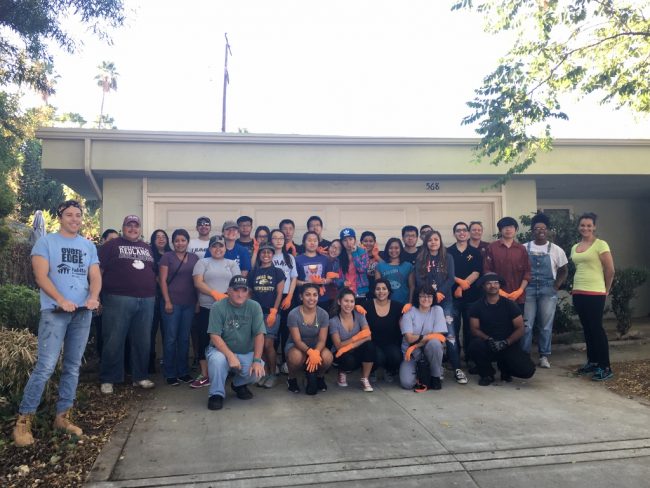 After a hard day's work with volunteers
As the end of the year quickly approaches and I reflect on my service these past several months, I am overjoyed to see how much I have learned about construction, how to work with others to overcome challenges, and ultimately more about myself.  I began this position eager to work hard to make a difference in people's lives and that feeling has only grown stronger as I've seen how much work needs to be done in my community.   Currently, I have completed 16 "A Brush with Kindness" projects providing minor exterior home repairs and helped manage over 400 volunteers.  I am proud of my coworkers and myself for this accomplishment and we have much more hard work to look forward to as the CalVet REN Jurupa Valley project is poised to begin soon.  In addition, I had the opportunity to meet fellow AmeriCorps members serving with Habitat for Humanity affiliates across the country when I attended the National Service Leadership Conference in Alabama in October. I look forward to seeing the friends I made there and making new ones in Colorado at the Habitat for Humanity Build-a-Thon next year.   I cherish the memories I have made so far and am beyond excited to make new ones with the remaining 7 months I have serving Habitat for Humanity Riverside.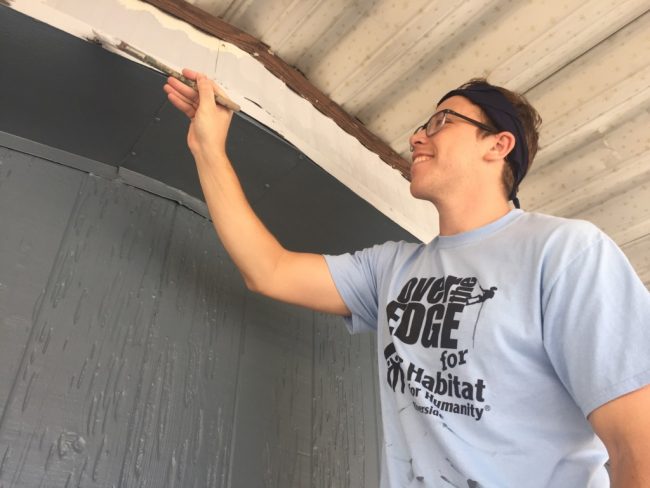 Painting a home for a Riverside local
For me, there is no greater feeling than giving your time and energy to help others which is why public service will remain a staple in my life and throughout my professional career.  I may not have come to that conclusion without serving for Habitat for Humanity Riverside and the AmeriCorps program.  There is so much to look forward to and already so much to reflect on.  Moving forward, I will strive to better myself and my community with the remaining time I have here.  With hard work and a passion to help others, I aim to impact as many lives as possible and make as many wonderful and lasting memories as I can.