Laura, a single mom living in Moreno Valley, needed to repaint her weathered and faded home. Living on a fixed income, she could not afford to hire painters or purchase painting supplies to get the job done. On March 19, 2016, The Home Depot staff members came together to help Laura for a team building volunteer day.  Thanks to their partnership with Habitat for Humanity Riverside's A Brush with Kindness program, Laura's home in got a fresh coat of paint.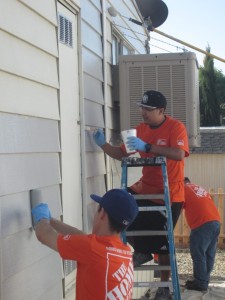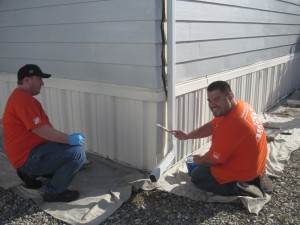 This was The Home Depot of Perris staff's first time volunteering with Habitat Riverside.  They arrived right on time, ready and willing to help. The volunteers began their day with coffee and donuts. After their breakfast, volunteers broke up into small groups and worked diligently to paint each part of the home. A volunteer stated, "it was really fun painting Laura's home. I'm glad we came out, we will be back." The team ended the day by chanting their store song about a hard work ethic and "Home Depot Perris being #1".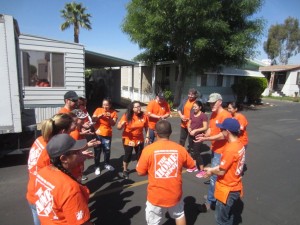 Laura was truly grateful, stating, "It looks beautiful, thank you for coming out."
Thank you Home Depot volunteers for giving back to your community. We could not have done this without your help.