I am an
AmeriCorps
National Member stationed at Habitat for Humanity Riverside (HFHR) and my member role is Community Outreach Coordinator. In my position I will empower residents in their communities and help them connect with services in their city.
I am working on a program called Neighborhood Revitalization Initiative (NRI) which supports the affiliates to renew and revitalize entire communities in their service area. NRI is a Holistic Place-based Community Development Initiative:
Holistic (all encompassing)
Place-based (specific area with boundaries)
Community (residents, schools, city services, non- profits, etc.)
Development (planned and progressive)
Initiative (program to better quality of life)
NRI affiliates gear their work to the goals and dreams of the residents in a focus neighborhood. We encourage, employ and empower the residents in becoming leaders of their communities and use a concept called Learning Conversations where residents speak about their gifts and talents. This in-turn will show residents that they do have the ability to become great members in their neighborhood, community and city and are able to help one another. The mission of NRI is to serve more families, to demonstrate an improved quality of life, and increase volunteer participation. We want the residents of these neighborhoods to communicate and help their neighbors, live in a safe area, and be active residents in their community and city.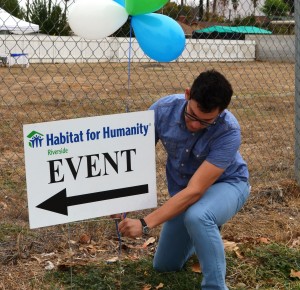 With all this training about NRI I have poured out the information and resources I have attained in resident meetings, community meetings and coalition meetings. I have met many residents in our NRI focus area: 37 homes in the Demeter/ Razor neighborhood in the city of Jurupa Valley, and have really bonded with some of the residents. Since I have been out in their neighborhood many times, they know my face and name. This I believe is the greatest aspect of my position at Habitat- building relationships with residents. When I talk to a resident about what they believe is important like their children, their job, or their faith, I feel a great joy and encouragement that they are sharing their heart with me. The concepts and programs of NRI would fail if Habitat did not create relationships and friendships with the individuals and families they are helping and working with. This is why I believe in the importance of my position as Community Outreach Coordinator to further the venture of Habitat for Humanity in creating a broader holistic viewpoint on community and resident and civic engagement.
I have also been involved in a groundbreaking ceremony for three new-builds in the city of Riverside. I helped build wall frames for two Habitat events, the 25th Anniversary of HFHR and Dia de los Muertos Celebration, both held in the city of Riverside. I have attended "Coffee with Council," an informal breakfast with the city of Jurupa Valley council members where issues and city updates are discussed with residents. I also traveled with our affiliate to HFH Santa Clarita/ San Fernando to meet with their leaders to discuss their Veteran Enriched Neighborhood and how they came about with the plans, veteran selection process, and to answer questions we had. Our affiliate has also connected with Community Action Teams in Jurupa Valley who are committed to serve the residents of the city. These action teams are: Community Safety & Readiness, The Arts & Recreation, Community Gardens and Farmer's Markets, Community Prosperity, and Access to Health Services and Resources. These action teams consist of many County of Riverside employees, City of Jurupa Valley employees, Non- profits, other government agencies, community centers, and residents. Their overarching goal is to implement their Healthy Jurupa Valley Initiative, where residents benefit and are informed about services of health and wellness in the city and county.
Our goal at our affiliate is to continue with NRI and aid the residents in our focus area as well as residents in the cities we work in. Knowing that it is greater to give than receive, I promise to do my best and further help others who are in need.