On Thursday, August 6th, the City of Jurupa Valley recognized Habitat for Humanity Riverside AmeriCorps members, Angel Araiza and Tatiana Magallanes, for their service in Jurupa Valley through Habitat Riverside's Neighborhood Revitalization program and Reach Out's Healthy Jurupa Valley coalition. Since last fall, our AmeriCorps have participated in Action Teams through Healthy Jurupa Valley and worked with our Neighborhood Revitalization program to uplift the communities of Demeter and Razor Way
Angel Araiza is an AmeriCorps National Member serving 1700 hours under Community Outreach with our Neighborhood Revitalization Program.  Angel is service oriented and enjoys working with the families, people, and programs in Jurupa Valley.  He was instrumental in building neighborhood meetings in our focus neighborhoods and working with residences on home repair issues.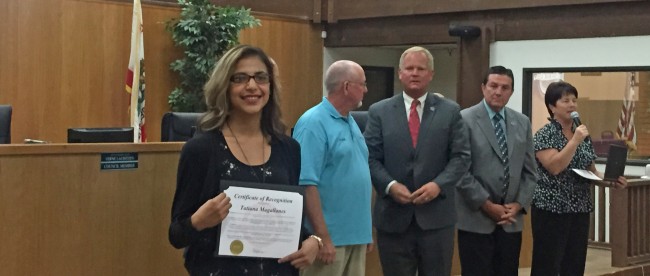 Tatiana Magallanes is an AmeriCorps VISTA member serving a full year under Project Development with Neighborhood Revitalization.  Families in Jurupa Valley may recognize her from her work going door to door and conducting resident surveys for Habitat for Humanity Riverside. Her worked defined our Neighborhood Revitalization Program's goals and objectives.
Both Angel Ariaza and Tatiana Magallanes have served the community of Jurupa Valley well during this year. As they move on from their AmeriCorps positions, they will be missed. We wish them the best, knowing that communities have been improved because of their efforts.