JOE GIVES DENISE GARCIA AND HER SON DAVID THE KEYS TO THEIR NEW HOME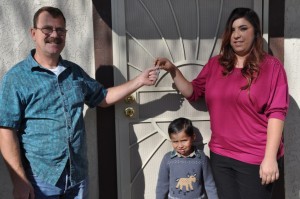 What a better way to start Thanksgiving then with family, friends, and a beautiful NEW HOME! Thanksgiving is a valued time where family and friends come together to give thanks and count their blessings. This Thanksgiving will be a Thanksgiving to Remember for the Garcia Family.
The family of two were living in a converted garage that was not up to code. During the winter months it would get excessively cold especially for 3 year old David who not too long ago came down with pneumonia. During the summer time it would get unbearably hot because the walls didn't have proper insulation.
Mother and son react upon seeing their new home. David ringing his doorbell before entering.
Before, and after months of hard work renovating the Garcias' new home.
Now, with the help of Habitat for Humanity Riverside and all their dedicated sponsors the Garcia Family can live in a decent, safe, and affordable new home that comes with all the works. Just to name a few, this newly renovated home comes with New Energy Star rated stove and refrigerator donated by Whirlpool. New Energy Star Rated windows, dishwasher, and tank-less water heater. New Heating Ventilation Air Conditioning (HVAC) unit, new roof, new cabinets, new light fixtures, new toilets, new shower glass doors, new carpet, new blinds, new garage door, and two fruit trees.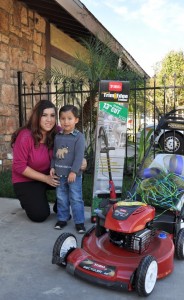 The family and their new lawn mover donated by TORO.
Denise as well as David were very excited to be new homeowners in the City of Riverside. As soon as Denise walked into her new home she said "I can't believe this is happening." Now they are very eager and thrilled to have a house to call their own. On this Thanksgiving, the Garcia Family will be giving thanks for their newly renovated home. Habitat for Humanity Riverside would also like to give thanks for being blessed with having families like the Garcia's and having committed sponsors such as the EDA, Whirlpool, TORO, and HunterDouglas who are always ready and willing to help a family achieve the American Dream. Thank you to all who made homeownership for a deserving family come true.