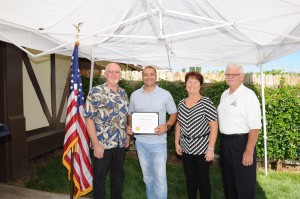 It was a hot summer morning in Jurupa Valley on August 29th, and the members of Habitat for Humanity Riverside were getting ready to hand over the house key to the new Habitat homeowner, Allen Orellana. Before the key ceremony, the staff of HFH Riverside put the last finishing touches and were able to take a look inside the home. As they were waiting for the guests to arrive, Allen and his little boy, Zachary, joined them in the celebration. Once the guests arrived and were seated, the key ceremony began. The first person who spoke and welcomed the guests was HFH Riverside's Executive Director, Kathy Michalak. Afterwards, the pledge of allegiance was led by the American Legion Post 79. Then Luis Munoz, the volunteer and Family Service Coordinator for HFH Riverside, introduced the Orellana family.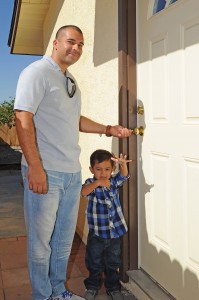 Furthermore, Jack Olree, the Community Development Vice President for Wells Fargo in the Inland Empire Market, made remarks on Wells Fargo's commitment with stabilizing neighborhoods and its support of Habitat Riverside. Another key speaker was Troy Hernandez–Riverside Heights District Manager for Wells Fargo–and Mervyn Manalo–Housing Specialist of Housing Authority of the County of Riverside.  Mayor of Jurupa Valley, Frank Johnston, joined by City Council Member, Laura Roughton and Mayor Pro-Tem, Michael Goodland officially welcomed Allen and Zachary to their Jurupa Valley Habitat home with a proclamation. Before Allen and Zachary could enter their forever home, Joe Michalak, Project Coordinator for HFH Riverside, had the honor of presenting the keys to Allen and his son.
Once pictures were taken, the guests explored the home where delicious treats were waiting to be eaten. During this time the guests were socializing as well as admiring Allen's home. Young Zachary joined in the fun as well by walking and exploring around the vicinity. In the end, Allen was very excited that he and his son will be living in a place where they could call their home.