Although temperatures rose past 100 degrees this past Wednesday, RDO Equipment volunteers arrived early and braved the weather to help paint a disable senior citizen's home. The volunteers arrived to help Vonda, a blind senior who lives in Riverside's Santiago Estates with Rosemary, her senior live-in caregiver. Habitat volunteers came earlier in the week to start with the yard clean up and trimming and the RDO Equipment volunteers finished the project off with a new coat of paint.
Jeff brought 8 employees to help paint the home for Vonda and Rosemary. They brought plenty of ice to keep their water cold, and boy did they need it!  Vonda's home is the stationary style so there was no skirting which made it a lot easier to paint. Jack, who is a contractor by trade brought his sprayer but he didn't need it and nearly painted the back of the home by himself. Everyone kept on going as long as there was cold water to keep them going. Gus, Ken, and Jeff did a great job taping which made it easy to paint the trim. Chris and Pat had a late start but jumped right in. Also, Cynthia, Andrea, and Theresa were all smiles painting in 100+ degree heat.
Vonda had an appointment with the doctor, so she thanked everyone as she was leaving for the kind work they were doing for her and Rosemary. The home and yard cleanup was completed by 12:30pm and everyone had time to head to lunch.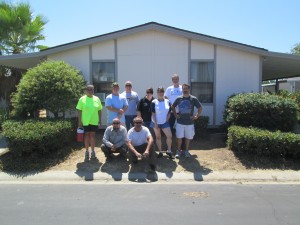 Thanks RDO Equipment, we were blessed to have you all help Vonda and Rosemary!