This past Thursday, Habitat for Humanity Riverside volunteers painted the first home in the Riverside Meadows, a senior mobile home park located in the City of Riverside. Volunteers gave up their weekday to help paint Joanie's home, a retired senior who is on a fixed income and can not afford to have her home painted. The home was faded and stained, definitely needed to be repainted.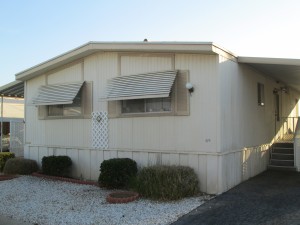 Volunteers started the day early to beat the heat even though the mobile home park was tricky to find. The crew was comprised of volunteers from a recent new build, several paint day veterans, and new volunteers who were all excited to begin painting.
Everyone split up into groups to paint the 4 sides of the home. Extra volunteers were put on the back of the home before the sun could reach it. Even in the heat, the volunteers were getting to know each other while working hard to give Joanie a brand new look to her home. Safety for our volunteers is always our first concern on all of our projects, so we made sure volunteers kept themselves hydrated.
Joanie loved the new look of her home, and even sat on her patio to chat with some of the volunteers as they were painting. Our dedicated volunteers finished the home, loaded the truck and took a group photo by 11:45 a.m.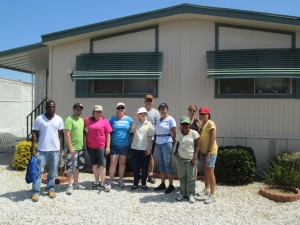 Thank you to everyone who wholeheartedly committed their time to help paint Joanie's home!