Habitat for Humanity Riverside and the City of Jurupa Valley gathered on Wednesday July 17th to welcome our five new Habitat homeowners.  The Hill Family, Nellum Family, Dominguez Family, Garcia Family, and the Baisa family all celebrated alongside many distinguished habitat partners, Jurupa Valley city council, and state officials.
The ceremony began with a rendition of The National Anthem by Jurupa Valley's future Grammy winner, Andrea Taylor.  It then continued with our many guest speakers welcoming the Habitat families into their new homes. Alongside the kind words of our guest speakers, a powerpoint slide illustrated the transformation of each house highlighting the hardwork of volunteers and homeowners working together on the homes.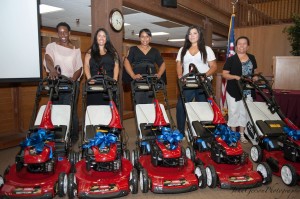 The Toro Company surprised the homeowners by donating each family a lawnmower and weed wacker to help with the upkeep and maintenance of their new home.
 All five famlies did more than just purchasing a Habitat Home. Each family attended new homebuyer courses, helped in the building process of their homes or other habitat homes by  painting, landscaping and even demolition work.  They spent their time creating the very house they were meant to call home someday. It was exciting to see the final results piece  together during Wednesday's Dedication for these five families.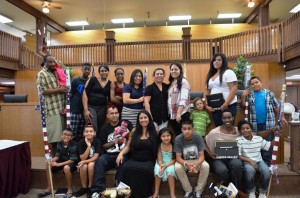 We would like to introduce you to Jurupa Valley's newest Habitat homeowners!
 Check out more information on 2013's Dedication from the Press-Enterprise!
There is also an article in The Riverside County Record in the July 25th issue about Habitat's Dedication!