Habitat for Humanity Riverside's A Brush with Kindness Program was in high gear on Saturday, June 8th with two volunteer groups tackling three homes in two cities.
Project One- Water damage face lift.
The home of Rodrigo and Susanna in Corona's Countrywood Estates mobile home park had significant water damage to the wall boards and panels and needed a lot of TLC.  Park management expressed concerns and although Rodrigo started on the repairs he was limited due to income and working a full time job to support Susanna and their two children.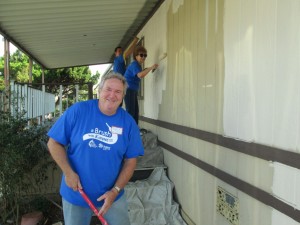 Wall boards and trim was replaced by Habitat volunteers and the first group of United Methodist Church volunteers arrived the day after for the finishing touches.  The group led by
Pastor Deb worked alongside Susanna and her 2 children to paint the home. The group was in sync and painted like professionals completing the project in 4 hours.  The day ended nicely with a group photo and lunch with Susanna and the children.
Project Two- Bushes and trees rocks new cut.
The second group of United Methodist Church volunteers arrived at Village Riverside mobile home park to helped Martin, a senior gentleman with his landscaping and much needed yard clean up.  Living on a fixed income makes it difficult for Martin to afford a gardener and the upkeep has become too much for him.   Martin originally applied to a Brush with Kindness Program to have his home painted but the yard and debris needed to be taken care of first.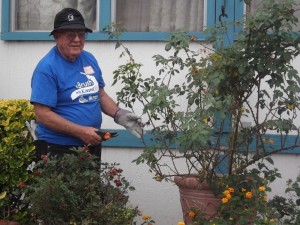 The volunteers showed up bright and early, grabbed their tools of choice and got right to trimming and weeding. There were lots of blue trash bags at the end of the day and the volunteers were kind enough to rid it themselves after the park's trash bins were overflowing. Martin was amazed to see his new yard and truly grateful for the wonderful job the volunteers had done for him.
Project Three- Refreshing new color for railings.
The Ramona High School Habitat Chapter has championed many projects over the years.  The Chapter has always displayed the utmost professionalism and pride in every project completed. Painting the railing and awning supports for Donna who lives in the same park as Martin is no different. Donna had her home painted recently but still had some areas that were unfinished. The railings and awnings are very detailed and the Chapter volunteers were no stranger to this line of work. A couple of the United Methodist Church volunteers join the fun by helping the Chapter paint Donna's home.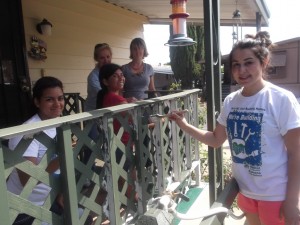 Big thanks to the United Methodist Church and Ramona High School Habitat Chapter for your help this Saturday.  Habitat for Humanity Riverside's A Brush with Kindness Program could not have helped these three families in one day without your support and hands.