Moving into a home can be a lot of work and very expensive. Maria and her son Arturo recently purchased and moved into a  used mobile home in Moreno Valley's Santiago Estates mobile home park.  The previous owner did not take care of the home very well and it needed lots of cleaning up and repair.  Maria's family and friends helped her with the inside and even painted the outside of the home.  Unfortunately, they ran out of paint and never finished the job and the paint colors were not park approved colors.  The park management company asked Habitat Riverside to help Maria out and paint the home in approved colors. Maria works as a housekeeper so her income doesn't leave a lot of room for an exterior paint job. Habitat Riverside and a great group of volunteers pitched in to help her with her new home.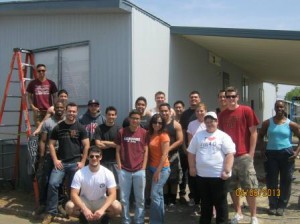 Volunteers from the Whirlpool Corporation and the UCR Phi Kappa Alpha fraternity joined Habitat Riverside this past Saturday to take care of the exterior paint job. Arturo, Maria's son, also joined in to help with the painting.  The weather was perfect and as soon as the group finished orientation, paint and rollers were going.  As the fraternity guys and whirlpool volunteers worked on the walls Brandon and a few of the guys worked on ladders to hit the high spots.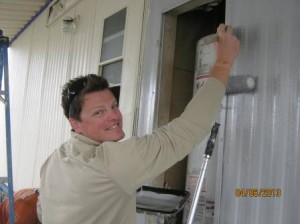 Maria returned from work and brought pizzas and sodas for all the volunteers.  She was so appreciative of the help that she felt she needed to do something to show it. They all thanked her and the fraternity guys made short work of the pizza! The Whirlpool volunteers were headed to the Redlands Bicycle Classic so they skipped lunch. Our volunteers did a great job in Santiago Estates in Moreno Valley!