Friends, colleagues, partners, and staff gathered at the Riverside Art Museum tonight to send retiring Executive Director off in style. There were a few hiccups with the surprise when a few people told Karin they would see her at her party, but staff was able to smooth it over with a staff April birthday lunch the same day. Karin says she was utterly surprised when she walked through the doors to the museum and was greeted by a round of applause by a large group of friends she had made during her eight years with Habitat for Humanity Riverside. A few guests had a special surprise of their own…
Like when Supervisor John Tavaglione personally delivered Karin a proclamation to recognize and honor her dedication to the lives of families and in the community.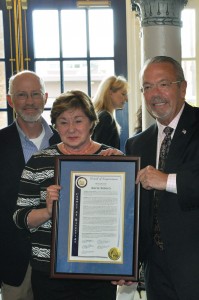 Or when John Terell, City of Morneo Valley's Community and Economic Development Director, announced Habitat's 8 new homes will be built on a street named in her honor "Roberts Way".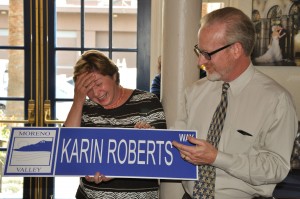 And then Vice President of Habitat for Humanity Riverside's Board of Directors, Ken Gutierrez, provided Karin an official job title voted and approved by the Board,  "Executive Director, Emeritus".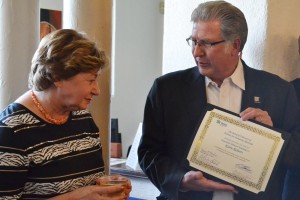 But not without offering her a glass of wine first!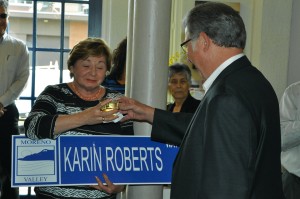 Thanks to the Habitat for Humanity Riverside Board of Directors for sponsoring such a wonderful event and to the Riverside Art Museum for donating their lovely space. We appreciate all of those who came to make this night special for Karin. She says, "it was really the highlight of my career."