It was such a fun-filled Saturday working with UCR's Global Brigades team. As a third year UCR Federal Work-Study Intern at Habitat for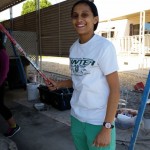 Humanity Riverside and a member of the UCR Global Brigades chapter, this volunteer day meant a lot to me. I was able to work for and alongside two organizations I am very passionate about in one day. Global Brigades is one of the largest student-run volunteer organizations in the world, where we go to countries in Central America and try to aid communities in providing them with resources to live a sustainable healthy lifestyle.  Although, the organizations focus is volunteering in other countries, we also strive to help our local communities, making A Brush with Kindness a perfect match. I was able to show my peers from UCR's Global Brigades the impact Habitat for Humanity Riverside's A Brush with Kindness program has on the local community.
Barbara, a senior living in Riverside Country Club Mobile Home Park is one of the many seniors who are on fixed income, typically on social security and unable to maintain their mobile home to park standard. Not many people realize that mobile homeowners have to adhere to park standard by maintaining their home and can be cited or evicted if not in compliance. Many times, a new coat of paint is the only thing needed to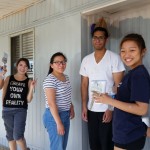 bring a homeowner up to code and prevent eviction. With A Brush with Kindness and volunteers like UCR's Global Brigades, we are able to make a difference for Barbara and countless others in one day.
Barbara's house was a bit larger than most double wide homes, so the Global Brigades volunteers had quite a challenge that day. The volunteers also had to overcome some obstacles like maneuvering around a non-working truck parked in the driveway and making sure paint did not splatter on the car or driveway. Lauren, Jeff, Matt, Priscilla, and Anita did a fantastic job painting the hard to reach areas of the home despite the truck being in the way. They had to carry ladders up and down the stairs, but in the end got the job done and was able to skip arm day at the gym.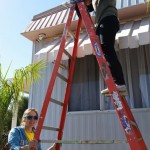 Arleen and Jenny were hard at work on the front of the home, even with the awning in the way, they weren't phased one bit. Krishan and Ryan had higher hard to reach areas on the sunny side of the home because there were large bushes that prevented them from getting to some of the trim. There was a lot of switching between ladders and paint extensions to get every small detail, but they were determined and definitely succeeded. Jose was a troopr because he was on the ladder the whole time working on the trim, but even with the sun beating down on him, he didn't complain one bit!
The shutters were a bit of a challenge because there were so many and we could only paint two at a time on the work station we had. Thankfully, Lorena, Amanda, Maria, and Pedro were working very hard to finish up all the shutters and enjoying each other's company at the same time. You could hear them laughing from behind the house!
Steve, Barbara's son was a big help during the paint day. He was outside supervising and hydrating the volunteers.  At the end of the day, we were all very satisfied with our work. Although it took us a bit longer than expected, we left Barbara's home knowing she was satisfied with her newly painted house and prevented future citation.
Thanks to all my Global Brigades family for spending the day with me, making me look good, and getting your hands dirty! The paint comes off, I swear!