46 lively volunteers from La Sierra High School's National Honors Society arrived only moments after the sun had risen on a beautiful Saturday morning. The Habitat team was surprised and ecstatic with the amount of helping hands ready to get to work!
The homeowner came to thank the volunteers even before they had begun any work. The level of gratitude was immense and ignited an extra amount of care and compassion throughout our volunteers. This team took pride in their work, treating the home as if it were their own. The hearts of the Habitat team were especially full when the volunteers began pulling weeds from the lawn and asking for supplies to scrub paint that had been spilled from the homeowner's concrete driveway.
"It was great to impact the community in a positive way." Pablo.
The homeowner reappeared during the volunteer cleanup to take a look at the work that had been done. His appreciation was immediately apparent when he stood in awe of his newly painted home. Almost brought to tears, the homeowner turned to our volunteers and thanked them from the bottom of his heart.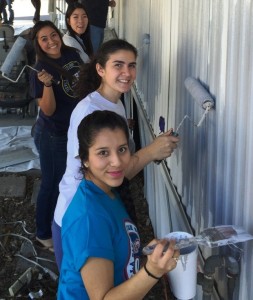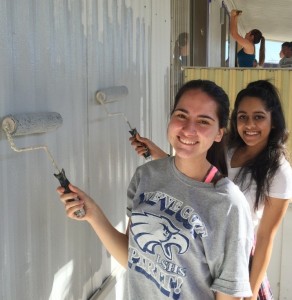 Not only were the La Sierra students able to give back to a family in need, but the family was able to give the students a truly remarkable and unforgettable experience.
"Having the opportunity to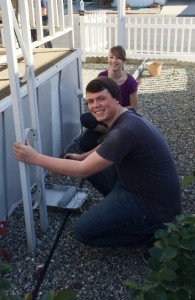 conduct service projects through NHS with groups like Habitat for Humanity allows us to see that great impact can be made right in our neighborhoods. Although we didn't change the entire world from our morning painting a mobile home, we've changed the life of one family, and I think it's the little acts we do to benefit our community that truly make a difference." Sophia, NHS President.
"Many times we take for granted the things we are capable of doing and it takes doing such things as the project we did with Habitat for Humanity to allow us to realize how fortunate we are. Helping someone who is less fortunate does not only allows us to help our community, but it also allows us to grow as a person. I'm looking forward to participating in many more events and hopefully helping out in college as well." Stacie.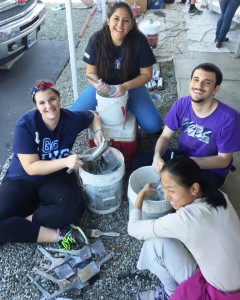 The Habitat team was overjoyed to get such great feedback from the students at La Sierra.
"The Habitat for Humanity organization was great to work with. We all really enjoyed participating in their "A Brush with Kindness" program and look forward to making it a regular part of our Honor Society activities." Bryan Roby, NHS Advisor.
Thank you to La Sierra High School's National Honors Society, for dedicating hours from your weekend and for all of your hard work. You truly were a wonderful group that went above and beyond our greatest expectations!