There was more than enough love going around during Saturday's paint day, when the UCR Phyt Club & UCR's Student United Way joined forces to help spruce up the Mendez's home. We had 14 enthusiastic volunteers, a perfect number for Valentine's Day!
This particular house was a bit trickier to work on because it requ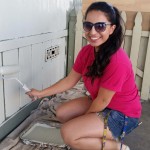 ired finesse and additional tarps to ensure paint stayed on the wall and not the patio floor. Not to worry, we had a perfect volunteer couple for the task, Bill & Nedra! This was Bill & Nedra's first time volunteering with Habitat for Humanity, Riverside, but they reassured us that it wasn't their first rodeo with a paint brush. This was also the start of their own Valentine's Day celebration and we were more than honored that they shared it with us!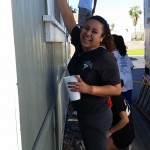 The Mendez's home was taller than we are used to and a double wide, so we had Anthony paint the underside of the roof as best as he could. First he tried a ladder but the house was still too high. He reverted to using an extension pole to get the job done. Since the roof of the house wasn't flat, but more like an upside V, the very tip of the roof was the hardest part to finish. Sunny not easily discouraged, was persistent in us get as far up the roof as possible. He didn't want to leave without getting the job done (that's the spirit, Sunny!).
During the middle of the paint day, Angel Araiza, our AmeriCorps volunteer, stopped by the store and bought the volunteers heart-shaped cookies, cupcakes, and Gatorade, all in the spirit of Valentine's Day. It was the perfect boost for the volunteers to finish the paint day strong!
When the Mendez family looked at their newly repainted home, they were in awe. They couldn't believe a new paint of coat from a light blue to a cream color would transform their home so drastically.
Thank you to UCR Phyt Club for all your hard work and spending your Saturday spreading the love.