November 15th marked a very special day for the three homeowners Monetta, Lucia, and Constance; all three are homeowners in the Villa Magnolia Mobile home park who were living on a fixed income. With no means to give their homes a much needed renovation, their hope for restoring their home seemed unsuccessful. But after a bit of preparation, a huge number of volunteers from the UCR CLUB Soccer Team and students from Professor Jasso's Business Class came to help out these three homeowners.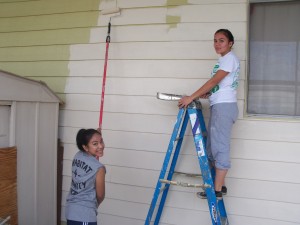 The CLUB soccer team at the UCR and Professor Jasso's business class collectively brought in over 40 volunteers! The entire project, including three separate homes was done in a little over four hours. The task was not without its challenges of course, including having to get an early start in order to avoid the heat Riverside was preparing to dish out!
Professor Jasso's business class volunteered that Saturday, not for class credit or to boost their test scores but simply with the intention to help someone in need. So with great anticipation, their class cooperatively painted not one, but two homes! Both Constance and Monetta were astonished by the sheer turnout of volunteers and even more by their work! At the end of a hard mornings work, the class assembled and gave a special present; two pies and a donation collected by the class.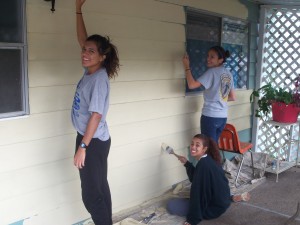 The CLUB soccer team at UCR put time aside despite their heavy schedule booked with school work and soccer practice to help Lucia with her home! A bit after four hours and a beautiful, freshly painted home was left to show for their work. Despite the heat, this team never deterred from their work!
Along with Monetta, Lucia, and Constance, weall want to thank CLUB soccer team at UCR, and professor Jasso's business class! We hope to see you all again soon!