Mr. Silva, Marine Corps veteran of the Korean War applied to the City for help with issues with his roof leaking in his mobile home through the City's Mobile Home Repair Grant program. His bed and some of the interior walls and flooring were ruined in the process and he was sleeping on a chair in the front room.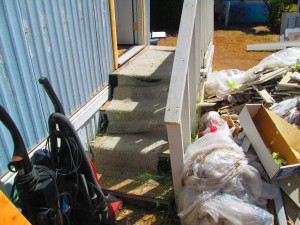 The City's Mobile Home Grant program took care of the major interior repairs and the roof but that exhausted the grant money. Habitat for Humanity Riverside has an excellent relationship with the City staff so they reached out to us for help completing the repairs on the exterior for safety issues they identified when they inspected the home. All three sets of entry steps and entry decks had rotted through.  In this case, HFH Riverside rebuilt all three entry decks and steps and railings; making the home safe for him. Using volunteers to assist we helped make sure the property was cleared of the majority of the junk that was unsafe as well. To finish the project, we partnered with Wells Fargo Bank volunteers and a veteran who we have on staff to paint the home. Project managers found a bed frame in our ReStore and pitched in for a new mattress for him to sleep on.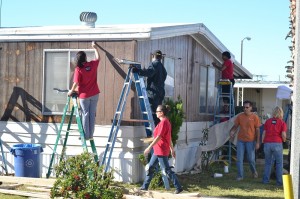 This was a great opportunity to partner with the City, a local bank, and the management team at the mobile home park to help a low income, senior homeowner who couldn't afford to and was physically unable to do the repairs himself. By leveraging our partnerships and volunteers, donations and volunteerism went further and had a much bigger impact.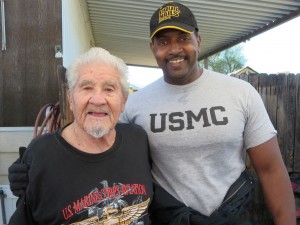 Wells Fargo volunteers from Riverside and Los Angeles counties dedicated their time and energy on Veterans Day towards painting a senior Marine Veteran's home. The Wells Fargo team arrived Monday morning prepared with donuts, muffins and Gatorade to paint Mr. Silva's home in Moreno Valley's New Horizon Mobile Home Park. Wells Fargo team leader Robin presented Karin Roberts, Habitat for Humanity's Executive Director with a check for $25,000 which will be directed towards Jurupa Valley's new Veteran Enriched Neighborhood project.
Wells Fargo and Habitat volunteers Thank You for taking time out of your day off to serve a senior Marine Veteran homeowner who had served in the Korean War for all of us to make our Country secure.  Job Well Done!