A Brush with Kindness started out November strong this past weekend with volunteers from three different groups that partnered to help two Homeowners in Riverside's Santiago Estates mobile home park. Springboard Solutions along with Bruce and members from New Beginnings Christian Church came ready to lend a helping hand. Also, Denise a future Habitat for Humanity Riverside Homeowner with eager family and friends came to help volunteer and work off some of her required sweat equity hours.
Saturday, was a perfect autumn day to paint. It was the first time the Springboard staff helped on a paint day and hopefully it won't be their last. Once safety orientation was done with the volunteers, Bruce set the tone for the project with an encouraging prayer to start the morning paint day.
Springboard staff members and Denise's family and friends took good care of Ben's home. Ben worked for a local Riverside company for years and his position was eliminated due to new technology.  Now he has a new career in the restaurant business as a new chef. He is able to take care of his family but on a much lower income than his previous position and that is why these groups came out to help him. Ben's home was cited by park management to have repairs completed and repainting. The original paint was faded and stained. Also several areas of the walls were badly water damaged. Habitat volunteers completed repairs to damaged walls and trim before the paint day.  Ben and his daughters showed their appreciation by thanking everyone that came out to help his family. He gladly took a group photo in front of his newly painted home with all of them.
Springboard staff you all did great for your first time volunteering and we want you to help again when you can.  Denise, you showed us on this day that you have good friends that gave up their time for you.  Thank you all for coming together and partnering so effectively to take care of these two homeowners in their time of need.  We applaud your efforts!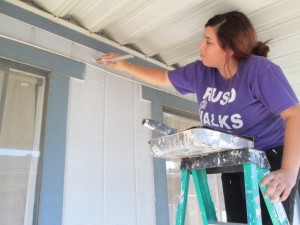 My First Volunteer Day with Habitat:
I was impressed with the amount of people who volunteered to lend a helping hand; Springboard, New Beginnings Church, and my friends were among the groups present. We began the day with an orientation and Morning Prayer. Shortly after, we learned about the families we were going to help and split into two groups.
Everyone went to work right away and it was incredible to witness everyone working together as if we have known each other for a long time. Working on the homes was a very smooth process; both homes were finished within 4 hours. I'm glad I was given the opportunity to be a small part in someone's life and truly make a difference in our community. With every Habitat for Humanity Riverside experience, not only am I gaining lasting skills, but I am also gaining a lifelong family. Thank you to Dave, New Beginnings Church, Springboard, and
friends for an awesome first day and amazing experience. I look forward to volunteering again.   -Denise