Soroptomist International of Riverside (SIR) has been a strong supporter of Habitat Riverside for a number of years so when they launched "HelpHers" their new initiative to do more group hands on projects in the community, it was a natural to partner up with Habitat Riverside. And since SIR's mission is "Women helping Women", it made sense to partner them up with one of our single moms, Sheena Hidey. Sheena will be purchasing one of the 4 bedroom homes on Roberts Way in Moreno Valley. Roberts Way is Habitat Riverside's home development project that includes 8 houses on a street named after our former executive director and active SIR member, Karin Roberts.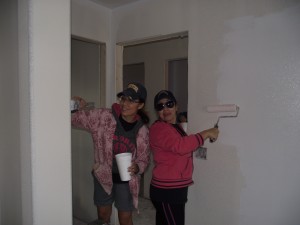 So, Saturday morning we met at Roberts Way at 8:00 a.m. The drywall team was still cleaning up after the spray texture process from the day before so while we were waiting, we took a tour of the other homes which are all in various stages of drywall installation. Sheena also took some time to share with the group her personal story about her journey to this point in her life.
By 8:30, the whole team was assembled, had their fill of coffee and bagels (thank you to Jana Cook for bringing them) and was prepped and ready to work so we got to it! Everyone teamed up to tackle a room, Jeanne Holmes and Judy Pekarek taking the lead on cutting in the corners to make it easier for those with rollers to focus on the walls and ceilings. Janet Payton took to the ladder to work on cutting in the living room which happens to have vaulted ceilings. Janet's husband, Jim joined in and rolled the walls and ceilings in the living room. Talk about multi-tasking. You can definitely tell Jim's done some painting in his life because he could roll and participate in a conference call at the same time. I can't vouch for the conference call, but he can roll paint pretty darn good!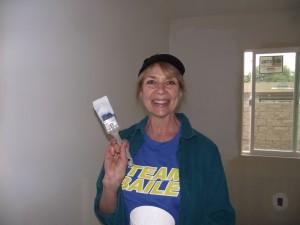 Marta Navarro and her sister Dinah took on the very back bedroom, working together both cutting and rolling at the same time. Jana Cook kept ending up in the closets or pantry. We are not sure if she wanted to do that or if it was because no one else did so she took it on. This may come as no surprise to other Soroptomist members reading this, but there was a LOT of laughter coming through the open windows on that house on Saturday!
Who would have thought that Colleen Walker, Lynn Scecina and Carolyn Kegarice could make painting look so easy? Carolyn and Colleen have some mad painting skills. We need to make a note of that in our Habitat volunteer database. Lynn was having a little trouble keeping the paint on the walls and in the pan vs. on her clothes. By the end of the day I think her nice walking shoes were painted to match Sheena's living room.
Sheena worked patiently around the eating counter, kitchen and living room and filled in where needed, as did Hilda. Mike Kreiser took responsibility for keeping everyone's roller pans filled with paint and making sure ladders and benches were where they needed to be. Trust me, it was no easy task keeping up with this painting team. They went through almost 20 gallons of primer in less than 4 hours.
W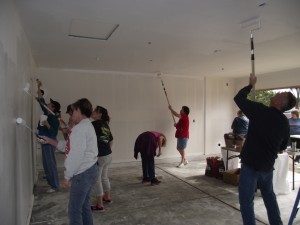 ith such amazing teamwork, we were just about finished inside the house around noon. So while a few of us finished up in the hall, (it got pretty crowded in the hall because we kind of left it for last) everyone else made a mad dash into the garage, dodging raindrops along the way, to make quick work of painting the interior of the garage. Mike & I worked on cleaning the brushes and putting the equipment back into the storage container and everyone else completed painting the garage in record time. Maybe it was just me, but it seemed like it took longer to get the group pictures done than it did to paint the garage!
What a fun experience and the beginning of what we all hope will become a tradition. SIR and Habitat working together, hands on, to improve the lives of women. Thank you SIR for putting your hearts and hands into helping make Sheena's home a reality for her and her children.