On Saturday October 18, the University of California Riverside's Habit for Humanity Chapter volunteered to help with Habitat for Humanity Riverside in A Brush With Kindness. One home in the Villa Magnolia mobile home park was due in for a new paint job, however, the homeowner was on a fixed income was not in any condition to give her home the remodel in needed. Knowing someone was in need of their help, the UCR's Habit for Humanity Chapter brought in a group of eager volunteers!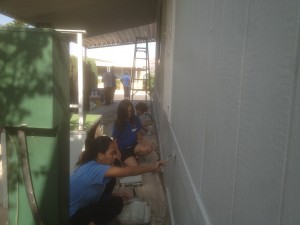 While some members of the chapter were previous volunteers, a few were completely new to the project and excitedly awaited to begin their work! Arriving in the early light of the new morning, the volunteers assembled eagerly. It was great to hear that despite nearing their exam dates, the team still decided to set time apart on their Saturday to help someone in need!
After a brief safety overview and a speedy setup, the members began to grab rollers, brushes and ladder's painting the new home with a great pace! At the end, a beautiful home stood with light green walls and a bold avocado green trim! You would never guess that some volunteers had no previous experience painting a home!
Volunteer Alexa noted that her favorite part of the day was seeing the "difference a group of volunteers can make in one morning." She added that "the home looked way differently than it did a few hours ago!" On behalf of Habitat for Humanity Riverside, we'd like to thank the UCR Habitat for Humanity chapter! We look forward to seeing you again!