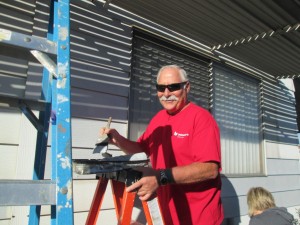 A great group of Union Bank Area Branch Managers from Southern California came together to help Ascencio this past Tuesday. Ascencio lives in King Arthur Mobile Home Park located in Riverside. He is a tile setter by trade and lives by himself. His income covers his living expenses but not for a professional paint job. The home's trim was faded and several areas of the walls had no paint. Park management cited him for these infractions and ordered him to paint the home in order to meet park standards.
Vicki who always wears a smile on her face, brought together this group led by Danette and they all showed up on time. Of Course! The team of 11 had great weather and came with snacks to get them through the morning. Everyone got started quickly since most of them knew how to paint. The morning conversation started off with The Dodgers clinching their division title. One of the managers was at the game and told us all about it. This group was truly focused. They paint like they manage, with passion, enthusiasm, and determination. In fact, they were so skillful, they used only a small amount of blue tape for trimming. The detail work was completed by those that had steady hands. The large front awning was taken care of and the trim was completed in no time.
The group kept on commenting how good the home looked as they started to see the result of their efforts. Ascencio was working on a tile job so he was not present during the painting.  The group imagined Ascencio coming home and being amazed as he saw the new look of his home.  Ascencio did call later to thank the group personally for their help and the beautiful paint job. He was truly grateful for their time and effort.

Thank you, Union Bank Managers we always know we can count on you to get the job done!