Early Friday morning, the Wells Fargo Business Credit Team consisting of area managers from Southern California joined forces with Habitat for Humanity Riverside to give Gerardo's home a  fresh new facelift. The Wells Fargo team met up at Village Riverside Mobile Home Park  but didn't anticipate the breezy Santa Ana Winds, they were nevertheless enthusiastic and  energetic. Kicking off the day with a hearty breakfast that Tina, Wells Fargo Team Leader had provided, helped the crew finish the job in a timely manner.
Gerardo has been living on a limited fixed income due to a past work related injury. Although the sides of his home were in decent condition, the front and rear were in need of attention. The faded paint on the wooden panels as well as the trim were discolored and water stained.
The team was split into 4 groups, one on each side, and although the team on the north side faced the challenging winds, they were not complaining at all since the benefit of working on this side, was that Gerardo played Pink Floyd and Frank Sinatra music which was heard by the volunteers. It was evident he was a fan, as he wore a Pink Floyd t-shirt as well. The team sang along as they painted; it also served as a conversation point amongst the group.
As the time came closer to lunch hour, Tina had come prepared with pre-packed sandwiches, chips, soda, and chocolate. The team huddled near the truck, quickly ate and went back to finishing the job. The majority of the crew were on the front side of the home, as the trim and siding were higher than the rest of the home. Gerardo's home, as most mobile homes do, had decorative gravel in the front but with the support of the team, this rather delicate operation was completed safely and professionally.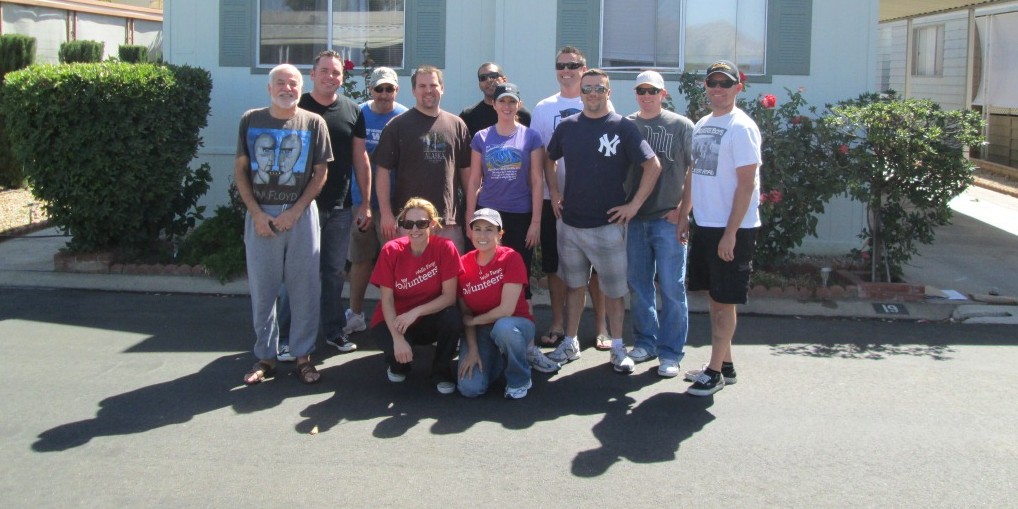 Mr. Gerardo thanked the team numerous times. His gratitude  towards their effort showed as his face lit up upon seeing the end result. Thank you Wells Fargo Team for yet another successful Paint Day! We look forward to the next!