It was a busy Saturday morning for the members of Alere Property. There were 20 volunteers that came out to paint with us that morning at one of Habitat Riverside's rehabilitation homes. The group of realtors and developers all showed up to the home ready to start the day with bagels and coffee! While the volunteers filled out waivers and signed in, they took the opportunity to catch up with each other and enjoy a little breakfast. Once all the volunteers were signed in, Joe, Habitat for Humanity Riverside's Project Coordinator, rounded everyone up and began the safety talk and the Morning Prayer.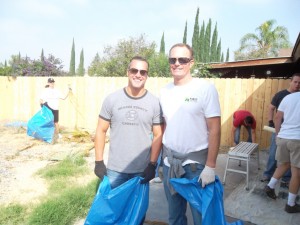 The paint day that morning was a bit different from our usual Saturday mornings. Not only were we painting a house but also doing a yard cleanup. After the safety talk, Joe split up the volunteers into two groups – one group was assigned yard clean-up and the other group was on painting duty. The Alere Property volunteers were definitely some hard working volunteers, getting to work right away and working diligently the entire time.  Some of our Alere property members were first time painters so Joe walked around the house giving painting tips when needed. Others were already grabbing paint brushes and heading to their assigned areas.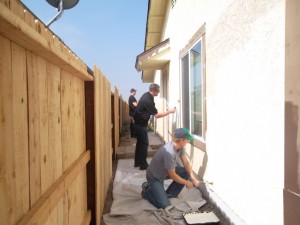 Around 10:30 am the day began to heat up and we made sure to keep everyone hydrated with cool water throughout the day. But having a big group of volunteers has its perks and we were well on our way to finishing. By this time we had completed the yard cleanup and it was all hands on deck to finish painting the home. Some volunteers moved on and began to work on the trim color around the house while other volunteers like Ursula walked around the house and made sure no spots were missed. The hot weather did not deter the volunteers; they were determined to get the job done! There were a few go-getters like Brenda, who were not afraid to get down and dirty and tackled the difficult crevices and areas to paint. Many of the other volunteers joking stated that "she had found her calling as a painter!"  
Around 11 am we finished painting the house and it was time for clean-up! All the volunteers helped with cleaning the paint rollers, picking up the bins of supplies, ladders, and tarp and loaded them onto the Habitat truck. During the clean-up, one of the volunteers, Mike noticed that some of the trims in the front section of the house needed a few extra coats of paint and took initiative to apply the extra coats and have it look flawless!  Once all the painting and clean-up was finished, Alere Property volunteers took a group photo to conclude our paint day.
It was a very productive paint day for Alere Property. Thank you all for working so hard and giving your time!