Volunteering is a great way to promote team work, especially when the team is off season! The ladies of UCR's Volleyball wanted to keep in touch and give back to their community during the off season. On January 9th, they worked together alongside community members to paint Shirley's home in Moreno Valley.
Shirley is a homeowner on a very fixed income, living solely off of social security. Her daughter, Cindy, was helping her financially and physically for years before she lost her job. She then moved in with her mother to reduce costs, and help around the home. The exterior of their home had begun to deteriorate over the years. Paint had been chipping off and the color had yellowed in spots. Thanks to community members and the UCR Women's Volleyball team, Shirley and Cindy now have a beautifully painted home they can be proud of!
The team arrived early that morning. They were also joined by several women from the community who were also willing to volunteer to help Shirley. Volunteers then geared up with paint brushes, Valspar paint, and of course, a little music. As the women painted, they danced and sung to their favorite songs, making their task less like work, and more like a party!
Upon seeing her newly painted home, Shirley exclaimed "I can't believe how beautiful it looks, I love the colors!" To show her appreciation, she passed out candy to the volunteers.
What a beautiful day of women, coming together to help and empower other women. Thank you for your hard work!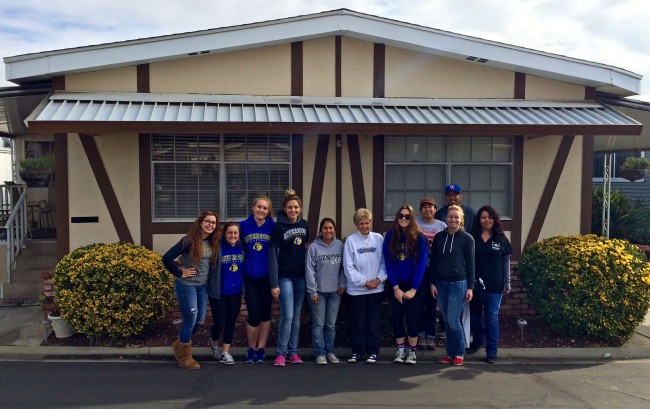 Habitat for Humanity Riverside's A Brush with Kindness program is an exterior home preservation program providing painting, landscaping, and minor repair services. The program focuses on assisting low-income homeowners impacted by age, disability or family circumstances who are struggling to maintain the exterior of their homes. Our amazing volunteers are the key to our ability to provide these services in our local communities.