Why did the cow go Over the Edge? To support our vets, of course!
The Riverside Chick-Fil-A, located on Day Street, has partnered with Habitat for Humanity Riverside to support their upcoming Over the Edge event! Chick-Fil-A will be sponsoring the, "Chick-Fil-A Chicken Coop", and will be donating $1000 worth of meals for staff and volunteers on the day's event!
"I support the Over the Edge event because I believe in supporting our military veterans who gave up so much and served our country."
-Justin Beard, Franchised Restaurant Operator
In addition to supporting vets on May 20th and 21st, Chick-Fil-A will be holding a "Military Appreciation Night" on May 25th, from 4 to 7 pm, where they will be providing  a free Chick-Fil-A® Chicken Sandwich, Spicy Chicken Sandwich, Chick-Fil-A® Nuggets (8-count), or Chick-n-Strips™ (3-count) to active military personnel, all who have honorably served, and their immediate family.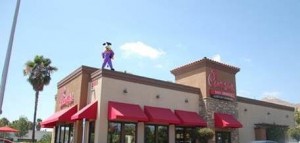 Over the past four years, Chick-Fil-A, Inc. and its franchised Restaurant Operators have given more than $68 million in contributions to over 700 educational and charitable organizations and have provided millions of dollars in food donations all across America. Committed to providing Second Mile Service they strive to exceed expectations. Whether it's with a friendly greeting as you walk in, the hot food or the comfortable dining environment, they hope you will have a great experience at their Chick-Fil-A restaurant.
Click here to learn more about your local Chick-Fil-A
Be sure not to miss out on seeing the Chick-Fil-A cow go over the edge! Funds raised through Over the Edge support Habitat for Humanity Riverside's veteran services, bringing strength, stability and self-reliance to veterans in need of a decent place to live in Riverside, Corona, Norco, Jurupa Valley and Moreno Valley. For more information about Over the Edge, click here!