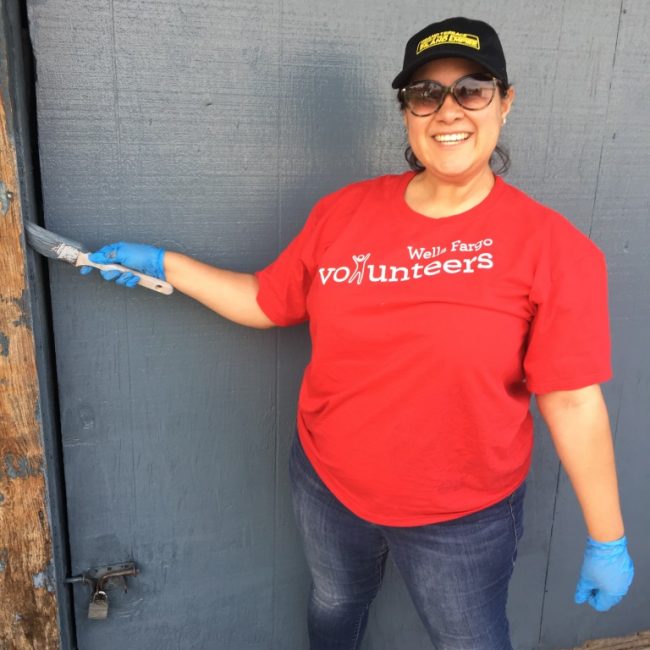 Volunteers from Wells Fargo have partnered with Habitat for Humanity Riverside to kick off their nationwide 100 Veterans Home Improvement Initiative program to help a veteran in need of minor exterior home repairs.  Bobby, a retired Navy veteran has lived with his wife in their Moreno Valley home for more than 20 years.  Over time, the home had begun to lose its luster as its paint had faded and begun to peel away.  Due to his low income and age, Bobby was unable to pay for all of the necessary paint supplies and to perform the physically demanding work required to paint his house.  Ten devoted volunteers from Wells Fargo braved the heat and worked all morning to repaint almost all of Bobby's home.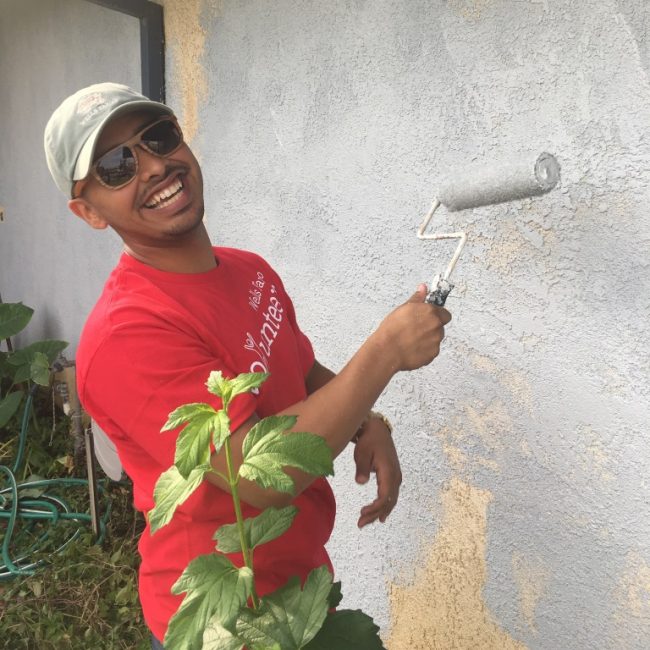 The volunteers arrived early and were greeted by Habitat for Humanity Riverside staff, including their Executive Director, Kathy Michalak.  Once all of the volunteers arrived, they were given a brief lecture regarding general safety on the project site and how to use certain tools.  Next, they were given a tour around the home to determine what they would be painting that day.  After the tour was completed, the volunteers grabbed their paint, rollers, and brushes and quickly began working.  With such a large home and only 10 volunteers, the Wells Fargo team knew they had to work together and coordinate which portions of the home they would work on first.  By 11:00 AM, the front and one side of Bobby's home had been entirely repainted.  The volunteers took breaks intermittently to rest in the shade, have a bottle of water, or eat a snack.  While the volunteers diligently worked through the intense heat, Bobby and his wife were also working inside creating a home cooked meal for the volunteers as a way to say thank you.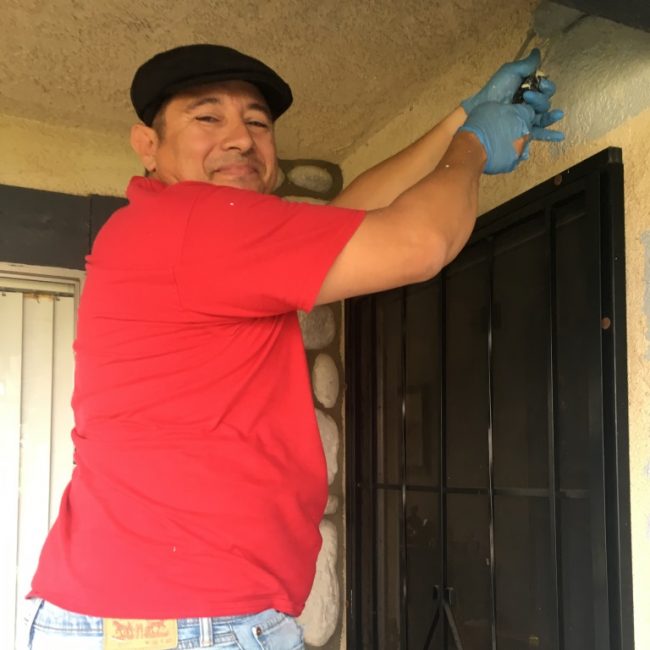 By 1:00 PM, the sun was too harsh to continue working.  The volunteers had completed all but one wall of Bobby's home.  The last wall was completed by Habitat for Humanity Riverside staff the following day.  The volunteers then helped pack up all of the supplies and rested in the shade.  Just in time for lunch, Bobby and his wife stepped out of the house carrying trays full of barbecued chicken, green beans, watermelon, and mashed potatoes.  The tired volunteers quickly perked up at the smell of Bobby's barbecue.  He also brought out a bottle of his homemade spicy barbecue sauce which was empty by the time lunch was over.  The happy – and full- volunteers thanked Bobby and his wife for the homemade meal, and they responded, "No, thank you for all you did today.  It means so much to us that you would help us.  The home looks a hundred times better."  Wells Fargo and Habitat for Humanity Riverside have committed to working together on four exterior home repair projects in the coming months for their 100 Veterans Home Improvement Initiative.  In addition to sponsoring each project, Wells Fargo has committed to providing all of the volunteers required for each volunteer day.