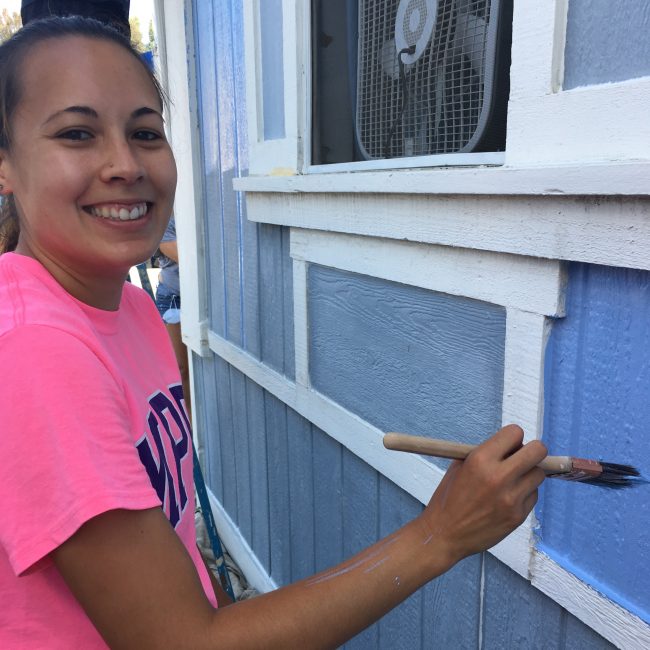 20 volunteers arrived early on Saturday, July 8th to help repaint and make minor repairs to the home of a long-time Corona resident.  Alicia, a disabled senior, immigrated to the United States many years ago and eventually settled down in Corona with her family.  After a work place accident, Alicia could no longer physically or financially maintain the outside of her home.  However, a group of Army Reserve nursing students and a youth group from the Saint Abanoub and Saint Anthony Coptic Church helped Alicia revitalize her home in one morning.  The volunteers worked through the blistering heat and painted and repaired Alicia's home with the same care and respect as if it were their own.
After arriving at the project site, the volunteers worked quickly to organize themselves into groups to paint different portions of Alicia's home, while others worked on home repairs. Power drills, saws, wood, and trim boards were set aside while the volunteers received a safety orientation and instruction on how to properly use the various tools.  Those working on painting were briefed about ladder safety and how to use certain painting equipment.  Finally, the volunteers were able to begin working and they made incredible progress in just the first hour.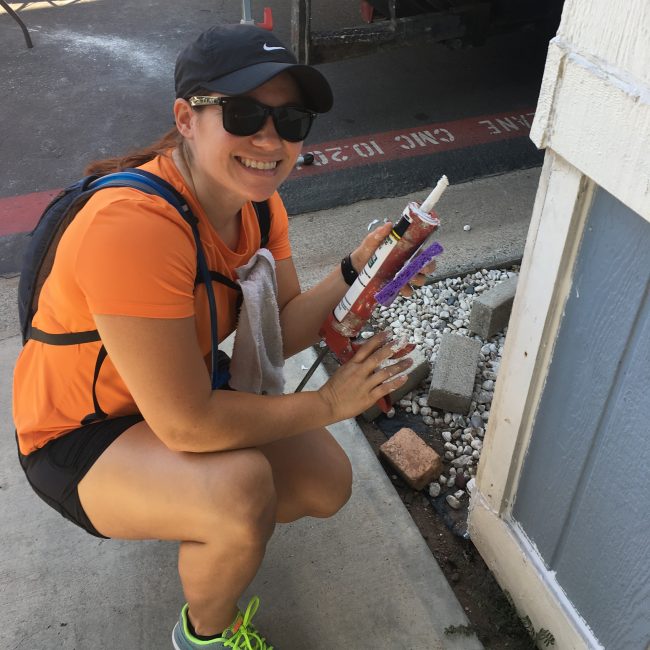 With gallon after gallon of paint, the home quickly began to look alive.  Alicia stepped outside to see if the volunteers wanted any refreshments, and was stunned to see the progress on her home."Wow! My goodness… it looks better than it did when I first came here," Alicia exclaimed.  While a majority of the group was brushing away at Alicia's home, a few volunteers were tasked with replacing damaged siding and repairing steps the homeowner frequently used.  After many years, the stairs she walked on daily behind her home had become so unstable she could no longer use them.  All of the volunteers repairing Alicia's steps and siding had never used a power drill before and were eager to learn as much as they could.  One volunteer from the church youth group laughed while working and said, "This is so cool.  I am going to buy a drill when I get home."  He then yelled out to his friend painting, "Hey, we are going to Lowe's after this!"
Several hours later, the home was entirely painted and Alicia's stairs and siding were fixed.  Her home was now safer and looked remarkably better because of the hard work the volunteers put in that day.  As they cleaned up the project site and packed up all the equipment and materials used that day, a communal sense of pride could be felt among the group.  One Army Reserve volunteer said "I was so happy to volunteer today because I realized I hadn't been doing enough.  I wanted to help my community any way I could and it's nice taking a break from studying."  The volunteers gathered in front of the home and took a picture together to commemorate their work that morning and said goodbye before parting ways.  Thanks to them, Alicia can reach her backyard safely and her home looks better than ever.