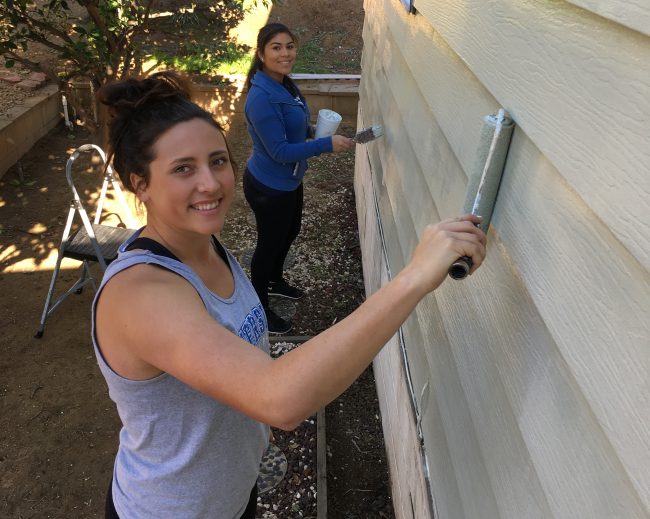 During two separate weekends, volunteers from the UCR women's volleyball team spent their Saturday mornings helping two homeowners in Riverside, Linda and Molly, repaint their homes.  The first weekend also included a group from UCR's Physicians Assistants of Tomorrow who worked alongside their school's women's volleyball team.  Linda and Molly had lived in their homes in Riverside for over 20 years.  Like many other homeowners the "A Brush with Kindness"(ABWK) program assists, Linda and Molly no longer had the energy or the strength to repaint their homes.  Fortunately, the hard-working volunteers from the volleyball team and Physicians Assistants of Tomorrow were there for Linda and Molly to lend a helping hand.  Following safety briefings and introductions, the volunteers learned how Habitat for Humanity Riverside's ABWK program operates and improves the lives of local homeowners through minor exterior home repairs.  Afterwards, the groups eagerly organized and prepared all of the supplies for their projects and quickly began painting.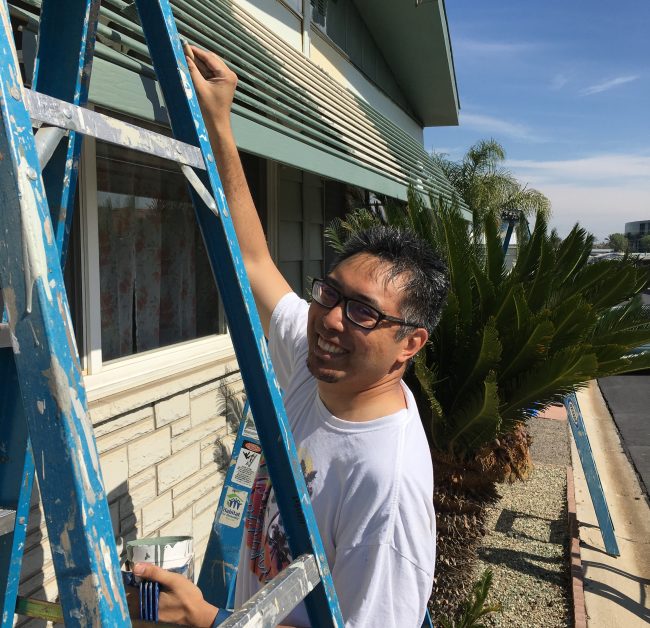 The volunteers' enthusiasm to help was made obvious by the progress they made in just a few short hours both weekends.  Before noon, all volunteer teams had painted a majority of their assigned homes.  They then began working on the hard-to-reach areas and touched up any spots they had missed.  Before 1:00 PM, the groups were finished with the home. Surprisingly, several of them had never painted a home before.  One volunteer from the first weekend said as their team was putting away supplies, "I can't believe how much fun this is and that I've never done this before.  It was so relaxing just spending my morning helping someone else and doing something I enjoy for a few hours.  It's been a while since I enjoyed a Saturday morning like this without sleeping in."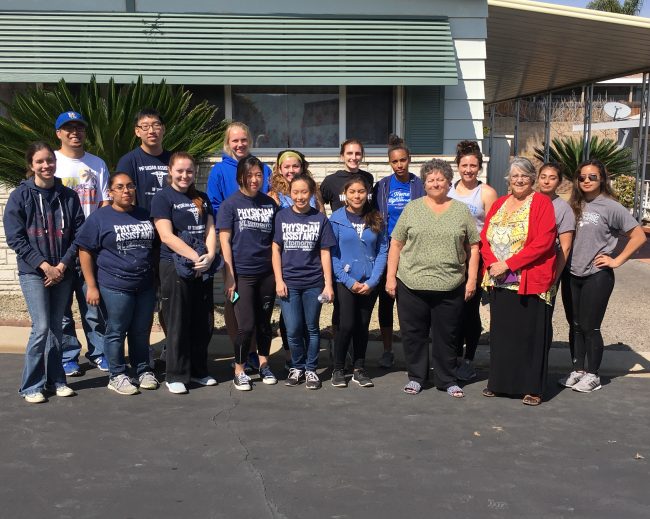 The teams then huddled together for a picture in front of the home to celebrate the work they had done.  When one volunteer who worked on the second home was asked what her favorite part about the day was she responded, "I think the best part of today was knowing that I made a difference in someone's life.  All it took was a little time, some paint, and a few people.  Molly's home looks brand new.  I helped do this!"  Both homeowners were extremely grateful for all of the hard work the UCR women's volleyball team put into revitalizing their homes.  Linda and Molly were speechless when they saw their homes after the projects were finished.  Linda, Molly, and Habitat for Humanity Riverside wish to thank the volunteers for all their help.