I was driving to Moreno Valley at 6:10 am for the wall raising at Roberts Way in Moreno Valley. You heard right, I said 6:10 am! When I arrived at 6:30 am at the construction site I was tired and was excited to see Soroptimist Moreno Valley was serving coffee and breakfast consisting of donuts, pastries, and fruit waiting on the table for consumption by staff and volunteers. I needed my morning pick-me-up. Once I finished my coffee and doughnut, I looked around the vicinity and I was in awe at the amount of progress the project coordinators at Habitat for Humanity Riverside accomplished in such a short amount of time. The lot was leveled and four foundations were laid, ready for volunteers to raise the walls on four of the eight homes.
The enthusiasm of the volunteers arriving at 7:00 am was evident the minute they walked through the gate onto the lot. Habitat for Humanity Riverside had three groups represented who volunteered their time; Bank of America, City of Moreno Valley and our Habitat Partner Families. Upon arrival one of our Partner Families expressed how "blessed" they were and "thankful" that this day finally arrived where they get to see their home built from the ground up.
While the volunteers were registering and filling out waivers, a few of the neighbors dropped by, curious to see what the commotion was about. One of the neighbors even sign-up and volunteered to work for the day. She was delighted to sweep and cleaning around the construction site, making sure everyone was safe.
Before everyone was allowed to go on the work site, Kathy, our Habitat for Humanity Riverside Executive Director, introduced the team leaders and volunteer groups (Bank of America and City of Moreno Valley). After introductions were announced, Bank of America presented a $50,000 check to Habitat for Humanity Riverside, everyone clapped and cheered.

After introductions were made, safety meeting was held, and team leaders were introduced, everyone was dismissed to their assigned home. You can't have four teams without a little bit of competition.
The team leaders were pumped up and ready to start. Who was going to be the team to put up the first wall?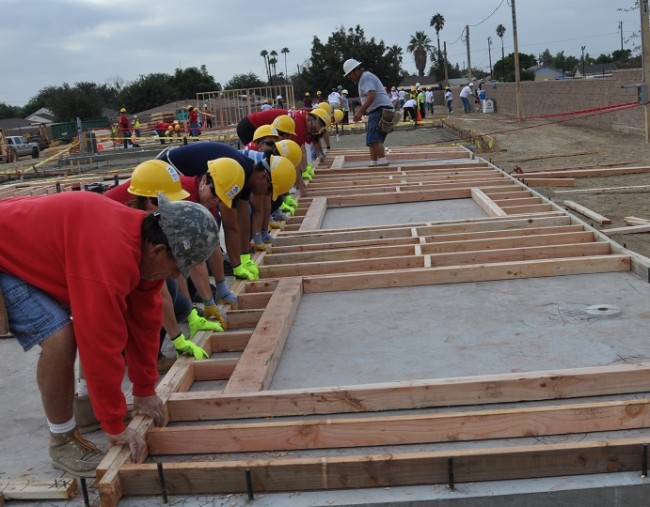 As I looked around it was heartwarming to see the future homeowners, Jose Najar and Rogelio and Rachel Cuevas, help build their community. The Cuevas caught my attention because throughout the day they were working together, helping each other out, and high-fiving one another from time to time when they would finish a task. Later on they told me that the home they were working on was their next door neighbor's home. It was becoming a reality to them because next week volunteers would be putting the walls up on their home.
The Cuevas and Najar Family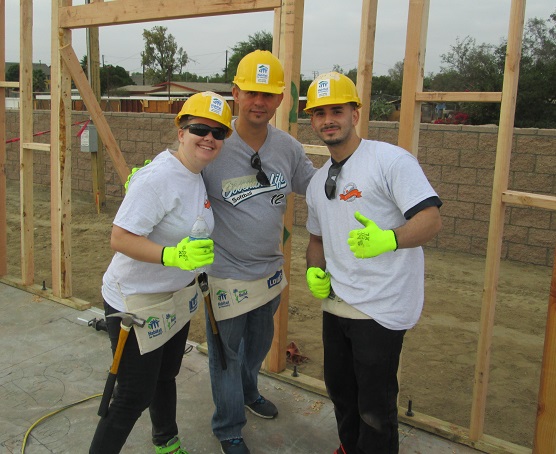 At lunch time Kathy gave out two awards, one was given out to the person with the best hammer technique and another for the person who bent the most nails. Each of the winners got a big laugh out of it and were happy to have received that award.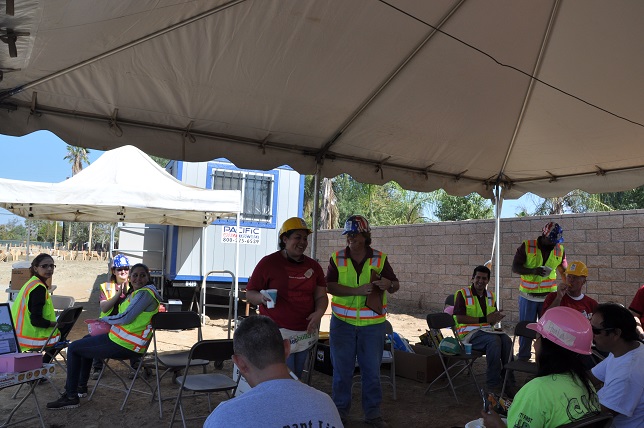 Lunch consisted of hamburgers, veggie burgers, hotdogs, chips, and drinks. After eating their lunch at around 11:30 am, everyone went back to work. However, the energetic atmosphere that was felt in the beginning slowly dwindled down—which could be due to eating those delicious burgers/hotdogs and working out in the hot sun!
At around 1 pm, Kathy declared the yellow team, the City of Moreno Valley as the winners for first completing their house! And each member received a free raffle ticket for the chance to win a grill. All in all, despite having to wake up early, I was really happy about the end results and I cannot wait for the homes to be completed! Everyone, including myself, left the construction site with a big smile on our faces.
– Tatiana Magallanes (VISTA member)