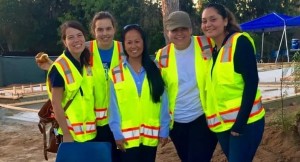 Hello! My name is Julianna McDonnell and I'm an AmeriCorps VISTA member serving at Habitat for Humanity Riverside. As a VISTA, I have made a yearlong commitment to building the financial, organizational, and administrative capacity of our affiliate. Specifically, I will spend my year creating sustainable safety and disaster relief programs. So far, I have been working on a safety manual and a driver safety program for our employees. I've also been creating an emergency preparedness class for Habitat homeowners. It has been rewarding to organize and create things that people will actually use!
Before starting at Habitat Riverside, I attended a pre-service orientation in Los Angeles. The orientation was an introduction to what VISTA members do and what to expect during my year of service. There was so much good food and a lot of interesting discussion on things like poverty, resource development, and community engagement. It was incredible to meet so many VISTAs working at nonprofits across the west coast. I was jealous when I learned that some VISTAS were relocating to serve in Alaska or Hawaii! At first, I was nervous about the conference because I didn't know anyone and I'm shy, but I ended up having a great time. Everyone was extremely nice and excited to be there, which makes sense, given that it was a conference full of compassionate volunteers.
The only downside of working behind the scenes is that I don't get to do a lot of the things people typically associate with Habitat for Humanity. Habitat is known for building homes and painting walls, but I spend most of my time on a computer. That is why I was so excited to attend a wall raising earlier this month! It was my first chance to see any sort of building event. It was fascinating to see volunteers come together for a few hours to work on a house and then go their separate ways. One of the coolest parts was seeing the partner family working on their home, probably trying to imagine what it will look like. It felt great to wake up early, get outside, and work up a sweat, though I'll admit that it made me a little thankful for my comfy desk chair and air conditioned office!
Later this month, I will be attending the National Service Leadership Conference in Talladega, Alabama. Since this conference is for AmeriCorps members working at Habitat for Humanity affiliates across the country, I am hoping to meet some people doing exactly what I'm doing. I'm also excited to attend a very important class on magic tricks! I signed up for it as an extracurricular activity during the conference and my coworkers have been teasing me since. Anyways, thank you for reading this little glimpse into my life as an AmeriCorps member!
P.S. If you want to learn more about the AmeriCorps VISTA program, click here!