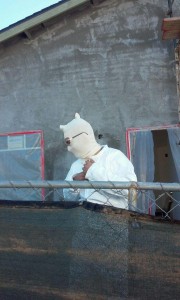 My name is Cristian Aguilar and my journey as an AmeriCorps National member began in September. I've made a yearlong commitment to work as a Construction Crew Leader at Habitat for Humanity Riverside. The past five months were filled with challenges that would lead me to not only learn a new set of skills, but also obtain a greater understanding of the economic disparities that exist within the region that Habitat Riverside works in. I've been very busy and challenged, but the rewards have been great knowing that our help, as a team, have made a significant difference.
I have learned so many new skills while working with the new home builds. At the construction site on Woodbine, I installed Energy Star compliant insulation on a home, used a spray paint machine on the eaves and fascia of the home, cut out drywall for the electrical outlets, and installed retrofit windows, door frames, locks, and baseboards.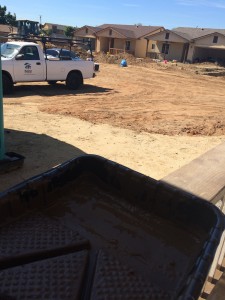 At the construction site on Roberts Way, I dug trenches for the main water line and drainage pipes and learned about city codes for sidewalks and streets paving. A great deal of work went into these homes. Thanks to help from volunteers, including the homebuyers, both sites were officially completed by the end of January.
I've also taken part in home repair projects. Habitat for Humanity Riverside's A Brush with Kindness (ABWK) program is an exterior home preservation program providing painting, landscaping, and minor repair services. The program focuses on assisting low-income homeowners impacted by age, disability or family circumstances who are struggling to maintain the exterior of their homes. Minor repairs consist of building steps and ramps to allow for easier access to the homes, installing carpet on outside patios, and repairing fences. I have been completely humbled by the amount of people we've helped and the appreciation they show for our work.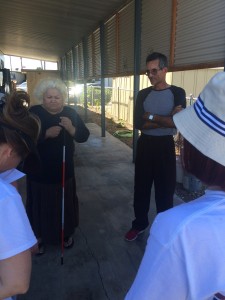 An ABWK project in October stood out to me as a reminder of the importance our work. Employees from Van Dale Homes volunteered to paint four homes at the King Arthur Mobile Home Park. I was assigned to oversee volunteers at a home where the homeowner lived with his sister who suffered from a genetic disease that caused her to lose her sight. After the home was finished, the homeowner was grateful for all the effort that was put into his home. His sister began by thanking everyone, and then shared a story about how she was a nurse and lost her profession because her sight started to deteriorate. She then brought everyone together and prayed for the volunteers to be blessed with good health and happiness and that their good dead may one day be repaid. As she prayed, volunteers began to tear up, touched by seeing how thankful a person could be for a gift that she may never be able to see.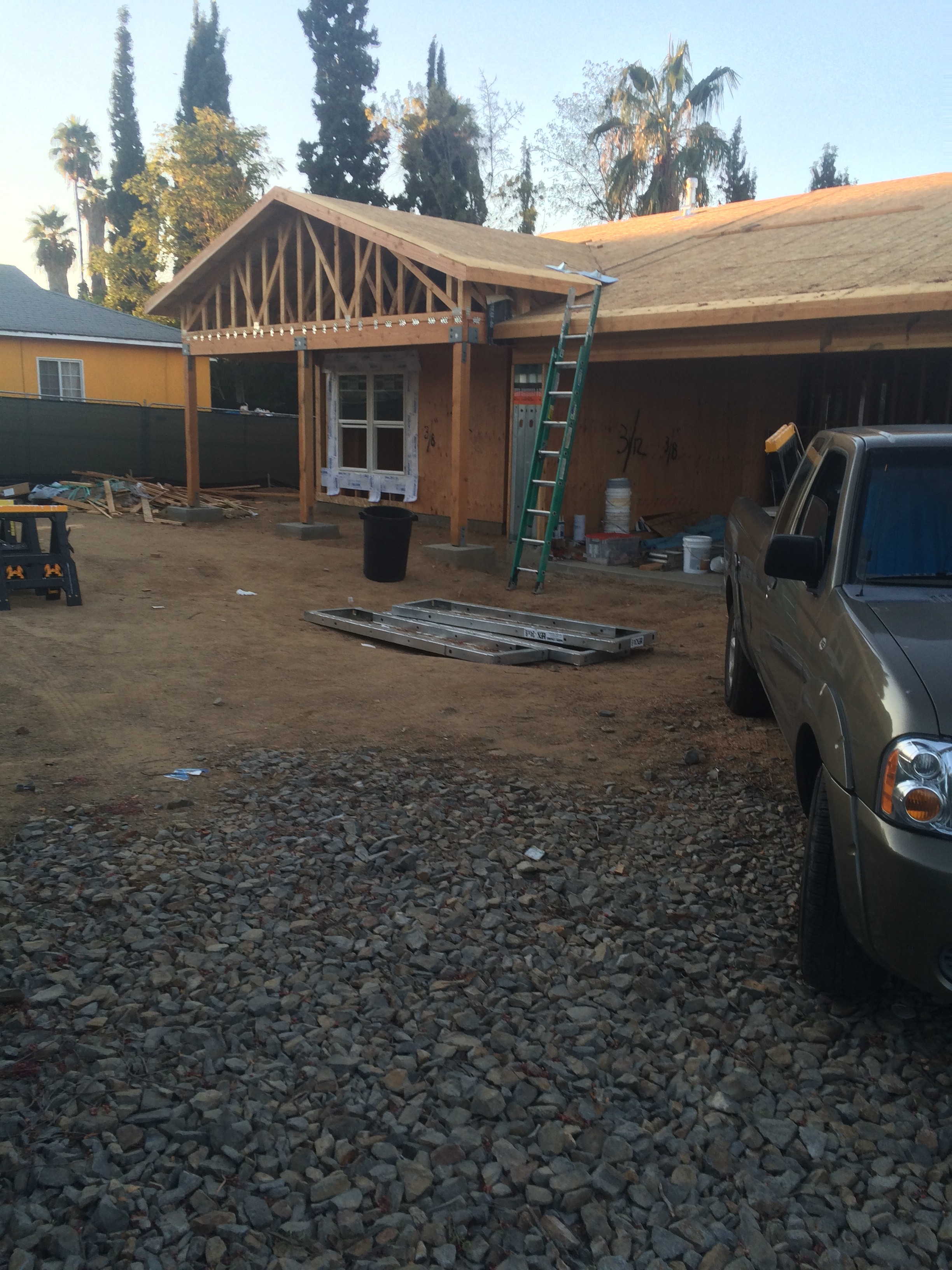 It was amazing to witness volunteers being as inspired and touched as the homeowners. It's a moment that will unite the volunteers and inspire them to be thankful for the blessings that they have in their own lives.
A repair project in a senior mobile home park in Riverside also stood out to me, reminding me how the slightest bit of help go a long way to help improve another's life. The homeowner had steps on the side of her home that were completely broken, impeding her from gaining access to one of the rooms of her home. This was my first time building securable and stable steps. We spent six hours removing the rotten wood, assembling the new steps, installing carpet, and building railings for extra security. It was a day well spent because the finished project allowed the homeowner access to the other side of her home. It was remarkable to build something that would help someone so much.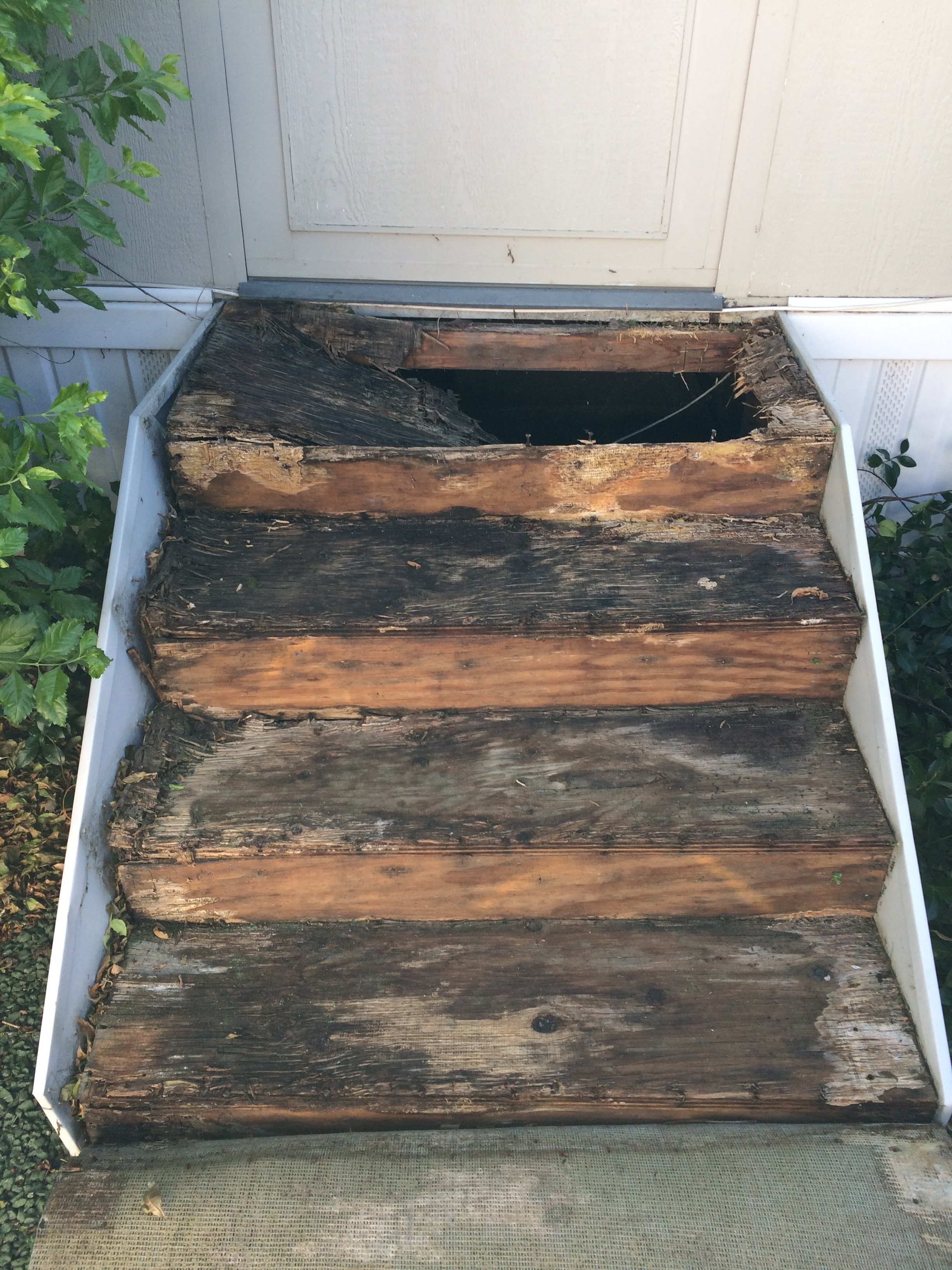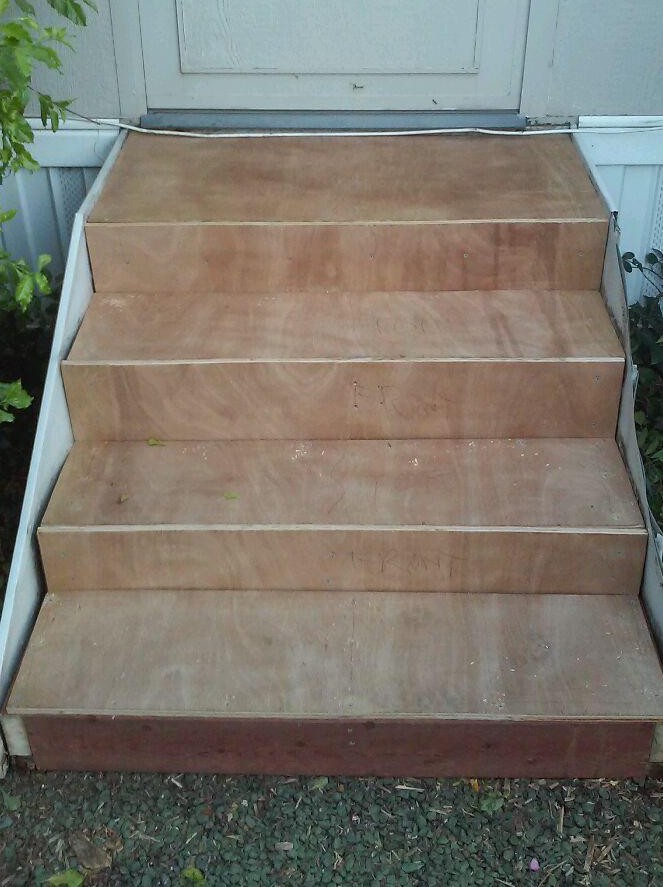 Before & After
Now, I anxiously wait for the CalVet REN homes that will be built in Jurupa Valley. The project will consist of 26 new homes dedicated to veterans and their families. In the meanwhile, I will continue working with A Brush with Kindness projects in hopes of learning more skills so I can be better prepared to serve. I can't believe how quickly these past five months have gone; I will try to make the best of the upcoming months in hope that I can serve as many families as I can possible.