Last year the Mobile Home Repair project received an application for a family in desperate need of assistance with their mobile home. They purchased their home two years prior in an "as is" condition. The home had a multitude of issues including a leaky roof, exposed electrical wires, a broken window, poor insulation, broken porch railings, damaged skirting, deteriorated pipes, and a bathroom that was practically inoperable. A home with this many health and safety concerns was no place for Javier and his growing family of four to be living in, but due to financial constraints and struggles with securing employment, the family had no other options. Javier expressed his concern by stating, "my home will fall apart, not to mention the dangerous environment for my family to grow and live."
Habitat for Humanity Riverside was eager to help this young family and give them a safe, decent, and affordable place to live. The project began by tackling the biggest and most extensive problem with the home, the roof. First, the old roof was removed and disposed, of and a new roof was installed which included new flashing for the carport and patio awning. Next, we began repairing the smaller issues; the outlets were fixed and/or replaced, the broken window was replaced, and the door was re-insulated. Additionally, the broken railing was replaced and reinforced, new siding was installed on the side of the home, the rusted pipes were replaced, and insulation was applied underneath the home.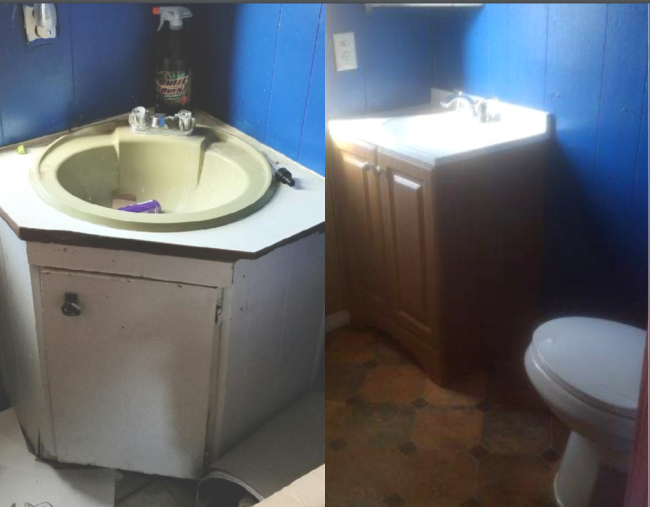 (Before) (After)
Lastly, the bathroom was completely renovated. All of these repairs were essential to this family's safety and made a substantially positive impact on their lives. Now Javier can breathe a sigh of relief knowing that his daughters now how a safe home to grow up in.