Now that my AmeriCorps year has ended, I wanted to say thank you to all of Habitat for Humanity Riverside's board members, staff, volunteers, and supporters for your hard work as you continue to invest in this organization. Your dedication to such a wonderful cause is inspiring and encouraging. In this past year, I have had the honor and privilege of working with some of the kindest individuals I have ever met. From the dedicated board members at Habitat, to the kind and hardworking mayors in Jurupa Valley and Riverside; all of them have inspired me and are the reasons why I will continue to work to improve communities long after my AmeriCorps year.
Here are a few of my favorite moments as an AmeriCorps National Member: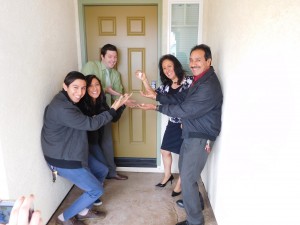 Experiencing my first Habitat build; I couldn't imagine a family more deserving than the Mendoza's.
It has been a privilege to work with such an amazing organization that has helped me grow both on a personal level, as well as a professional one. I wish you all the best in all your future endeavors and I look forward to seeing all the great work that Habitat for Humanity Riverside will do in the years to come!
Stephanie served over 1700 hours as an AmeriCorps National Member with Habitat for Humanity Riverside. Interested in serving with Habitat? Click here!