This 'Brush with Kindness' mobile home event took two days to complete; one morning with our UCR, Japanese international student volunteers, and the second morning with independent volunteers, many from Rancho Community Church.  Both groups did a great job painting and the house looked magnificent afterwards.  This home belonged to a retired couple and they could not appreciate the work more.  The last time this home was painted was by the homeowner over a decade ago, and he felt unfit to take on the task again, so we were happy to help out.
The morning with the UCR international students went really well.  As part of the Tohoka services volunteer program at UCR, these students came to America to experience and engage communities through community service.  This is reflected in their work, as they were all very motivated to help others and paint.  Being their second time volunteering with us, they were all adept at painting and were in high spirits even as the day got hotter. Since we had last seen them, they had a chance to visit Disneyland, and mentioned loving Carls Jr. and In-N-Out.  As one volunteer said, "It's hard work, but it's fun and it makes a big difference!"  Sadly, this is the last time we will work with this group of students.  We greatly appreciate all their work and hope they continue making a difference in communities around the world.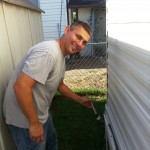 This first morning was also attended by future homeowner Jose, who is performing his sweat equity hours before receiving his Habitat for Humanity home through our new construction program.  Jose is very enthusiastic and excited about his volunteer work in anticipation for homeownership, which is also engaging him with his community.  Jose also assisted in cleaning all the brushes after this event.  He is well on his way to becoming a new homeowner in our Myers' Street Project in Moreno Valley.
For the second day, Saturday, September 20th, we asked as many volunteers as possible to help since we planned to finish painting this home and a second home in the same mobile home park on the same day (see the second post for 9/20).  We finished this home in two hours, completing all the trim, painting two doors and two sheds, and touching up the color on the entire house.  In the end, it looked great.  The volunteers, some from Rancho Community Church in Temecula, and others who just wanted to volunteer, worked very diligently.  We thank and commend them for their hard work, the homeowner could not have asked for better volunteers!