Stantec, a multi-disciplinary company with architectural, engineering, and environmental expertise and over 14,000 employees in 230 locations throughout the world,'s Redlands' branch was gracious enough to spend a Saturday with Habitat for Humanity "Brush with Kindness" in Riverside, painting a mobile home in dire need of a face lift.  These workers were very hard working and we finished painting the entire house within 4 hours.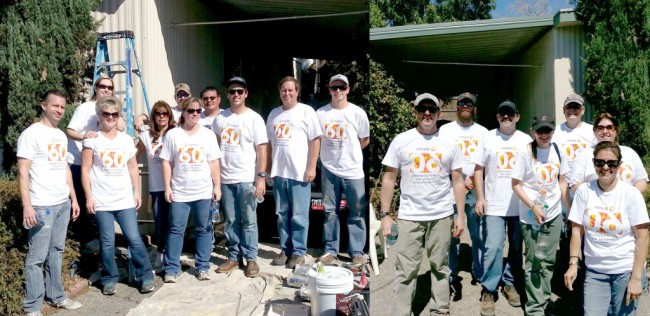 This Team was amazing.  They were very diligent despite a few setbacks like the presence of wasps and a mid-point shift change (it was two group doing two hour shifts each); it went seamlessly.  Through this experience, we also got a chance to learn more about Stantec and the work that this office does.  This office specializes in environmental clean-up, treating contaminated sites such as discontinued gas stations and superfund sites; it was all very interesting.  They test soils, amend soils, coordinate clean-up work, and also offer Architecture and engineering services; they even build communities.  This office works all throughout Riverside, San Berardino and LA Counties.
No wonder they were all such good workers; many of them work out in the field doing much harder work than this.  They were all very proactive and seemed undaunted by any of the required tasks.  This office does a community service day every year; last year they volunteered at a Ronald McDonald charity golf tournament.  This year they wanted to get their hands a little dirty in their community so they contacted Habitat for Humanity Riverside to volunteer.  In fact, their offices in Redlands is next to a Habitat ReStore which prompted their involvement in this volunteer event.  We hope they join us again next year too!