Saturday was a scorcher, it hit well over a hundred degrees! Although, this heat had little effect on the amazing volunteers from US Bank and Air Force Reserves. Francine and her daughter were in desperate need of repairs on her mobile home but were unable to afford to pay for a contractor to come and work on the projects. Her railing, roof, swamp cooler and other essentials were in need of major repair and the paint on the home was faded and stained from years of weatherization. Through our programs, her roof, swamp cooler and other essentials were repaired or replaced, the outdoor carpet on her steps were replaced, her railing was secured, and her house was painted.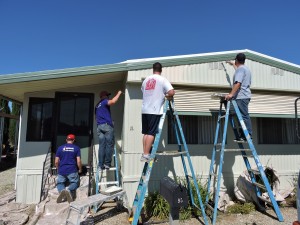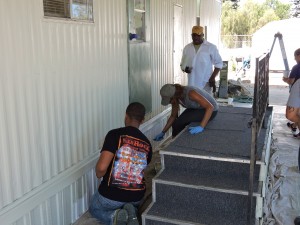 On the morning August 15th, volunteers from US Bank and the Air Force Reservists showed up ready to paint Francine's home and work out the outer repairs. They knew the day was going to be a hot one but this news actually motivated the volunteers to work quickly but efficiently. The US Bank volunteers were from branches located in Moreno Valley, Riverside, Corona and around the Inland Empire. Some were bankers, mortgagors and administration employees. The Air Force Reservists came from all over the United States and are stationed at March Air Reserve Base.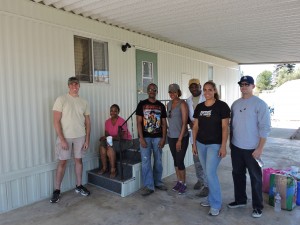 It was great seeing both groups work and get along with each other in such a friendly and professional way. One of the US Bank volunteers brought her Navy son, he and the reservists had an instant connection and shared storied about being in the military moments and about life. As the day went on, volunteers seemed less like strangers and became one working machine. They accomplished and overtook obstacles; which is key to completing a successful A Brush with Kindness project. A special thanks to US Bank for renting the Kona Ice Truck to celebrate the completion of Francine's home. We all had a blast and will never forget the moments we made that Saturday. A big thanks to US Bank and the United States Air Force Reservists: we also thank you for your service in defending our nation.