Habitat for Humanity Riverside partnered with the City of Riverside and Wells Fargo to launch the build of an EnergySTAR efficient, affordable new Habitat home. Together, an infill lot was selected. Infill lots are typically neglected by for-profit developers and if left bare they attract unwanted activity and are an eyesore for the neighborhood. Located on Arapahoe Street in Ward 5 of the City of Riverside, this new home would not only revitalize the neighborhood but give a family an opportunity to become a first time homeowner. Beatrice Jones is purchasing this home from Habitat for Humanity Riverside and anxiously awaits the day her family can finally move in.
Beatrice Jones and her family put the sweat in "Sweat Equity" alongside Wells Fargo volunteers throughout the build. Let's take a look at their journey.
October 2012: The groundbreaking for an EnergySTAR efficient home on Arapahoe Street in Riverside.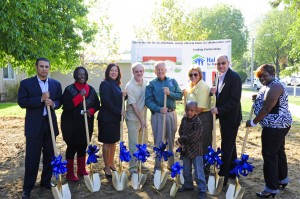 March 2013: Wells Fargo volunteers demonstrated their strength by raising walls for the Habitat home.
April 2013: Paper and Lathe of the home commences with Wells Fargo Women volunteers. Beatrice's son Akili gets his very own private tour lead by Kathy, Habitat for Humanity Riverside's Construction Manager.
May 2013: The home starts to come together with the help of the Wells Fargo volunteers. They installed interior doors and painted the interior and exterior of the home.
June 2013: The home nears its completion with the finishing touches on the baseboards and cleaning of the entire interior.
June 29th, 2013: Volunteers, sponsors, and partners will come together for the Dedication to celebrate and congratulate the new homeowners.