The morning kicked off with tons of energy and smiles as four members of the Habitat for Humanity Riverside office and eleven volunteers gathered to paint a home for an A Brush With Kindness project. Homeowners Marvin and Charlotte were very reserved before the project, however, soon after the project was approved they were both very welcoming.
This project was held in Habitat Riverside's Neighborhood Revitalization Initiative neighborhood. Proclaimed by some residents as the 'Demeter-Razor Neighborhood', the neighborhood itself lays within the city limits of Jurupa Valley. Having rehabbed two homes and one critical home repair on Demeter Place, Habitat for Humanity Riverside found this neighborhood to be a great starting point for NRI. Since our genesis in the neighborhood, the AmeriCorps Members have envisioned the 40 home community coming together and identifying a vision for themselves and so far they are in the process of accomplishing just that. The AmeriCorps have held reoccurring meetings with the residents by utilizing 'learning conversations' to seek out what the residents truly want for their neighborhood. The residents have shown their desire to begin a neighborhood watch, as safety is a concerning issue, among others. They have also formed together to plan and coordinate the neighborhood's first community event; a Fourth of July BBQ! The neighborhood champions knew that wanted to see a community related event, kind of like a block party. The Fourth of July event will allow residents to meet one another and hopefully become more involved in their neighborhood.
We met Marvin at one of the resident meetings and after discussing Habitat's programs he was very much interested in having an ABWK done to his home. The staff at Habitat and the AmeriCorps knew this project would be a win for NRI and indeed it was!
Earlier in the week, several Habitat members replaced trim boards and filled in wall cracks in preparation for the paint day. When Saturday morning came, we were all ready to go. Joe-Project Coordinator, gave us a safety briefing and closed with a short prayer. The excitement radiated from the smiles of Marvin and his wife, Charlotte. It was this joy that kept us all motivated and focused.
The event took place from 8am to about 1pm. There were already several regular volunteers with us, but it was quite refreshing and inspiring when a couple of neighbors stopped by to help us out, displaying their desire to fix up and unite the neighborhood. About an hour into the project, Marvin's wife brought out some iced tea and popcorn for the volunteers. She then went into her garage and turned on some music on her outdoor surround sound system for us volunteers to enjoy. In addition to this mellifluous presence, Andrew Ferguson, who is working out his sweat equity, kept everyone entertained and smiling with his comedic personality and enthusiasm.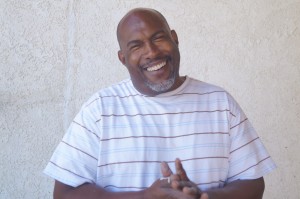 This was my first experience with Habitat, so I was unsure of what to expect. I had seen countless photos from brochures and the Ramona HS Campus Chapter and it appeared to be a fun experience as every photo showed smiling volunteers with a paint brush or hammer in hand. Being on an ABWK day in person was an entirely different and much more fulfilling experience. For having to wake up and paint a house at 8 AM on a Saturday morning in the dawn of summer, the volunteers' attitudes were absolutely contrastive to these circumstances and this great atmosphere created synergy that kept our day running smoothly.
With continuous refills of paint tray, the home's new color was coming along beautifully. The homeowners were ecstatic as they walked around their property asking volunteers if they needed water to recuperate the hard work they were doing. The volunteers were eager to finish up as they used every bit of paint in their paint trays. Stroke after stroke, brush after brush, Marvin and Charlotte's smiles continued to grow and by noon we were almost finished.
Joe and the volunteers inspected the home for any missed spots; every corner and edge of the house from top to bottom. A few volunteers went around with a brush to fill the spots in. With a few last brush strokes, the NRI ABWK project was complete and the volunteer's day came to a cessation.
Marvin and Charlotte expressed their happiness as they thanked every volunteer over and over again. The volunteers said their goodbyes and walked off with a smile. It truly felt amazing to see the joy, first hand in the homeowner's eyes. It felt even better knowing that we were a part of the reason for their joyfulness. After a last farewell, we went our ways, leaving behind another happy family.