What we do for ourselves dies with us. What we do for others and the world remains and is immortal – Albert Pine.
For the 5th year in a row, Habitat Riverside invited women come to Women Build sites to volunteer and make a great impact in their community. On Saturday, May 11, 2013 a group of excited Lowe's women began their Women Build day in the City of Jurupa Valley.
Wearing their red Women Build shirts and nail aprons, volunteers hung doors, cut and installed baseboards, and removed tile on a Habitat rehabilitation project.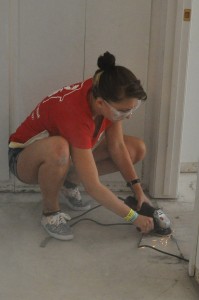 National Women Build Week, sponsored by Lowe's, is a celebration of women builders all over the U.S. coming together in support of safe, decent housing. It is incredibly wonderful that we see the number of Women Build volunteers grow each year and many return in a show of support for the cause.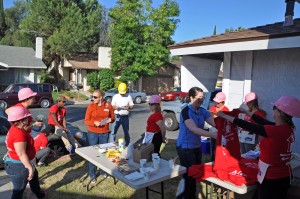 For the second year in a row Jurupa Valley City Council Member Laura Roughton supported our Women Build week by donning her pink work boots and went straight to work.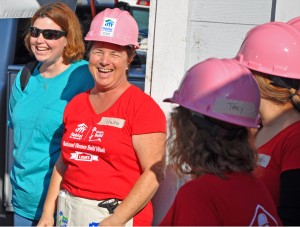 Janet Hill, future Habitat home owner, finished up her last 6 hours of Sweat Equity at the Women Build project.  Janet Hill is a long time resident of Jurupa Valley. She is looking forward to buying a house in her city and enjoyed working side-by-side with the Women Build volunteers.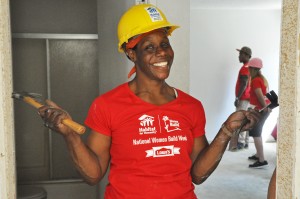 "These women were very passionate about doing this project and doing it right," said Project Manager Joe Michalak. "They worked swiftly and powered through the 100 degree heat. I'm way ahead of schedule with this project because of them." By the end of the day, volunteers were tired and "glowing," but smiling and laughing. Hopefully, they drove off not only knowing of what they physically accomplished, but also their actions sent a fantastic message: women can make a difference.