Kaiser showed their caring side in a different way on the 22nd. Instead of caring for patients, they painted the home of Richard and Pat, seniors who live in Corona Palms mobile home park.  Both are retired and rely on income from Social Security.  Their home had not been painted since they purchased it many years ago, it needed some TLC and updating. Also the rear of the home needed repairs due to some water damage over the years. Richard had these areas taken care of before the paint day.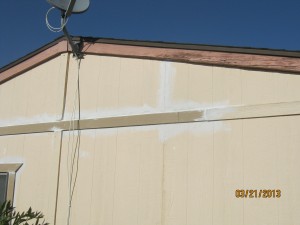 The Kaiser crew got busy right away and since some of the group had painted with us before we were able to work on walls and front trim at the same time. The home had five beams at the front and it made sense to get these done as quickly as possible to beat the morning heat. Since this was a Friday paint day, most of the group had to go back to work for an important meeting by 1pm so all of them painted with determination and care.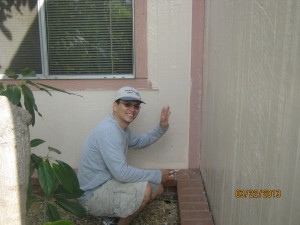 The crew was able to complete all of the home and even paint the three awnings before leaving for their meeting. Nancy, who organized the group of volunteers stayed with a few others to take care of the finishing touches and load the truck.  Thank you Kaiser employees for taking time out of your busy schedules to help  these seniors who so needed and appreciate your help. Kaiser Cares!